45 Crucial Frigidaire DGCD2444SA Dishwasher Specs
This semi-integrated dishwasher can focus its washing exclusively on the upper rack with its Top Rack wash program, a feature that we do not commonly see in a lot of low-end dishwashers, and it wields an OrbitClean wash arm, which promises to deliver four times more washing coverage compared to a traditional spray arm. Also, it is given a Quick wash cycle that takes a slightly-below-average 34 minutes to complete, but it can still be considered commonplace, at least among dishwashers that offer a speed-wash program.
Key Specs
Max. noise level
54 dBa
Number of place settings
14




Dishwashing System
Food disposer
Cycle options
Hi-Temp Wash
Wash Arms
BladeSpray Satellite Spray (Their specs sheet also mentions OrbitClean)
Wash system features
Five-level wash, Direct Feed
Built-in water filter
Stainless steel
Dispenser
Rinse Aid (Adjustable with indicator)
Drying features
Heat/No Heat Dry
Sensors
Smart Soil, DishSense
Total annual water consumption
? (Frigidaire just mentions 4.9 to 8.5 gallons) gal. (0.00L)
Water consumption per wash
0.00 gal. (0.0L)
Control Panel
Button type
Electronic (Super Slimline)
Shortest cycle time
34 (Quick) minutes
Preset programs
Heavy, Normal, Quick, Rinse Only, Upper Rack
Programmable start time
6 (2-, 4-, 6-hour delay)
Racks
Lower Rack details
11- to 13-inch vertical clearance
Upper Rack details
8-inch height clearance, Rack handles
Stemware holders
Perfect Stemware
Silverware Basket details
Multi-compartment (SpaceWise)
Rack Material
Nylon (TufRacks)
Physical Specs
Installation details
Built-in
Leveling System
4 leveling legs
Available colors
Silver (Stainless steel)
Door Style
Stay-put
Finish
Stainless steel
Maximum Height (inches)
35
Weight
78
Weight lbs with package
83
Width (inches)
24
Depth (inches)
25
Depth With Door Open 90 Degree
49.25
Handle features
Pull-latch
Height (inches)
24.00
Tub height (inches)
Tall
Tub material
Polymer (Graystone)
Other Features
Main category
semi-integrated dishwasher
SERIES
Gallery
User manual
Download manual
Approval certificates
NSF
Release day
5
Release month
10
Release year
2016
Security features
Control lock
Voltage
120
* Specifications cannot be guaranteed accurate. Please do your own research before buying a dishwasher. Manufacturers do not always detail all their models' functions, making it difficult for us to know whether or not a specific model has a specific function. If you spot an inaccuracy in this Frigidaire DGCD2444SA description, please let us know as soon as possible.
You Should Also Check Out: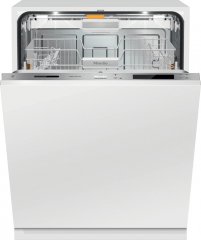 The latest 2017 (and 2016) dishwashers surprise us with stay-put doors, complex water-spraying systems, super-low noise and... what else? Get clean on the latest dishwashers in this discovery gallery.