The 7 Best Electric Tea Kettles As Of August, 2021 (And 1 Other)
Electric tea kettles that function as automatic tea brewers have seen an upswing, thanks in no small part to tea aficionados who laud tea's health benefits, which include cancer protection, blood pressure maintenance, decreased risk of diabetes and stroke.
Electric tea kettles differ from ordinary electric kettles in that they have a tea basket, also called a steeper, for loose-leaf tea. Water filters through this basket, allowing the tea leaves to steep at a set temperature: Tea enthusiasts know that different types of teas call for different brew temperatures and brew times. Most models have temperature presets that correspond to types of teas, and some also have preset steep times to control the strength of the brew.
When you want to make the best brews out of your tea, nothing beats the precision and convenience of a cordless electric tea kettle. Here are the best ones:
The List:

Best Model 2021
Alpha
Rank:
#1
Our
Score:
4.6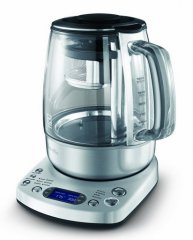 The Breville BTM800XL One-Touch Tea Maker Kettle has been lauded on a good part of its 6184 total consumer reviews for the variety of brewing options that it comes with. Aside from having preset brewing suggestions, it can also be customized in terms of both brew time (10 minutes max) and temperature (up to 212 degrees Fahrenheit), with the display showing the temperature in real time. This flexibility has made "fresh and flavorful" blends easy to prepare, according to customers who seem pleasantly-surprised that it can handle even the more delicate and demanding types of tea leaves.
The programmable auto-start and automated tea basket cycle (which lowers and lifts the basket on its own to enhance infusion) have also been massively-appreciated by buyers, as this makes waking up to "perfectly-brewed tea" possible by letting users set and program everything from the night before. As one reviewer put it, this variable kettle "takes the ceremony out of tea-making " -- a feat that may be too guilt-inducing for many self-confessed tea enthusiasts, but something that is, in the end, immensely-convenient for parties involved.
While we've seen no qualms about the metal basket in terms of how it performs, we did encounter tales of how spent tea leaves can cling to it with much tenacity, making clean-up a bit more taxing than ideal. The fact that the glass jar isn't dishwasher safe has also been a concern for some customers, as the bottom of the carafe supposedly cannot get wet at all, lest it will break.
From its overall rating of 4.5 stars, it's clear that this Breville variable temperature kettle is a mighty market contender, therefore deserving the spot of Alphachooser's best electric tea kettle 2021 (Learn how we rank items) with 100 confidence (More on confidence levels).

Breville BTM800XL One-Touch Tea Maker

Second Best
Alpha
Rank:
#2
Our
Score:
4.5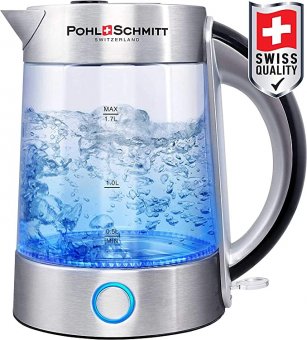 Because of star rating of 4.5 derived from 12429 reviews, we rank this Pohl Schmitt model second best electric tea kettle. * This list is based on an in-depth aggregation of hundreds of electric tea kettle reviews from multiple sources.

Pohl Schmitt Premium Electric Tea Kettle
Strix Thermo-controller

Borosilicate glass
Alpha
Rank:
#3
Our
Score:
4.6


Fitmaker 1.7L Glass
Alpha
Rank:
#4
Our
Score:
4.3


Saki 1.7L Tea Maker
Alpha
Rank:
#5
Our
Score:
4.4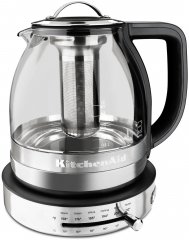 Kitchenaid KEK1322
Alpha
Rank:
#6
Our
Score:
4.3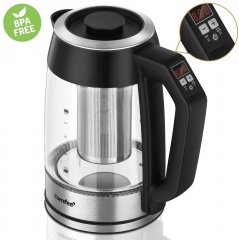 The Comfee MK-17G01B-E5 variable temperature kettle doesn't come with specialized programs for different types of tea and coffee, but its flexible settings, which can go head-to-head against even the folks from
AlphaChooser's list of the best variable temperature kettles
, seem to make up for this. It can be set at any temperature within the range of 0 to 212 degrees Fahrenheit (at 10-degree intervals) -- so one can still choose the precise temperature at which the beverage will be prepared. According to a sizable chunk of its 953 customer reviews, this model can achieve the desired temperature in a fast and efficient manner. Although it doesn't have a programmable working time save for the 2-hour keep-warm feature, it appears to still be considered a great product by many tea enthusiasts. To add, the Taiwan glass jar has impressed many consumers for how sturdy and well-made it feels.
However, some people have reported running into some minor trouble when cleaning this variable heat kettle. Apparently, the bottom part of the jar accumulates brown buildup, and to get it all cleaned out takes some effort (I mean, who in his right mind would want to exert some effort these days, right!?!). Several reviewers also pointed out that the instructions were hard to follow, with one even saying that she was positive the instructions manual was written by someone "whose first language wasn't English" . Clearly, its cons may indeed be significant enough to consider for some people, but they really don't have anything to do with how the tea kettle performs.
This 4.5-star variable electric kettle obviously left a solid impression on its buyers. And for that, we're awarding it the honor of being an Alphachooser good choice for this top 7 ranking.

Comfee MK-17G01B-E5
Strix Thermo-controller

Made In China
Alpha
Rank:
#7
Our
Score:
4.1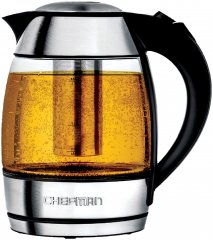 Chefman RJ11-17-TI
Borosilicate glass

Made In China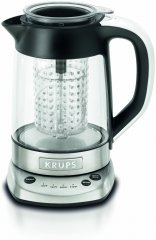 Krups FL700 Electronic Tea Maker
More electric tea kettles, sorted by the latest model first:

This page offers an ad-free experience, in exchange for "Check Price" and review links to lead to the stores you know, which pay us a commission that has no effect on your price. Items are chosen independently (regardless of price) by our computer review crawler and commented by human analysts. Read more about our
constantly-updating unique ranking system
You Should Also Check Out: