The 7 Best Electric Tea Kettles As Of July, 2020 (And 0 Other)
Electric tea kettles that function as automatic tea brewers have seen an upswing, thanks in no small part to tea aficionados who laud tea's health benefits, which include cancer protection, blood pressure maintenance, decreased risk of diabetes and stroke.
Electric tea kettles differ from ordinary electric kettles in that they have a tea basket, also called a steeper, for loose-leaf tea. Water filters through this basket, allowing the tea leaves to steep at a set temperature: Tea enthusiasts know that different types of teas call for different brew temperatures and brew times. Most models have temperature presets that correspond to types of teas, and some also have preset steep times to control the strength of the brew.
When you want to make the best brews out of your tea, nothing beats the precision and convenience of a cordless electric tea kettle. Here are the best ones:
The List:

Best Model 2020
Alpha
Rank:
#1
Our
Score:
4.7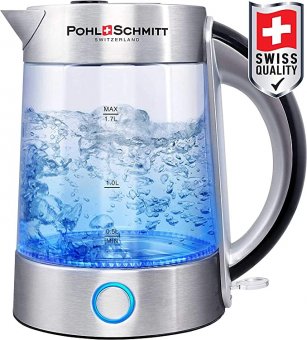 Because of this electric kettle's overall rank of 93%, we are confident that the Pohl Schmitt Premium Electric Tea Kettle is currently Alphachooser's best electric tea kettle 2020. Furthermore, we think that our 1674 reviews sampled across multiple sources give us a
high
confidence level (
more on confidence levels
) that pushes us to label it a
"no-brainer best choice."



Second Best
Alpha
Rank:
#2
Our
Score:
4.6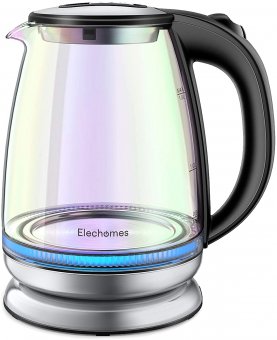 Because of star rating of 4.5 derived from 48 reviews, we rank this Elechomes model second best electric tea kettle. * This list is based on an in-depth aggregation of hundreds of electric tea kettle reviews from multiple sources.

Alpha
Rank:
#3
Our
Score:
4.5



Alpha
Rank:
#4
Our
Score:
4.3



Special:
Built-in tea steeper

Alpha
Rank:
#5
Our
Score:
4.2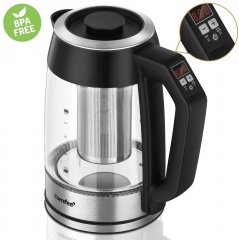 The Comfee MK-17G01B-E5 variable temperature kettle doesn't come with specialized programs for different types of tea and coffee, but its flexible settings, which can go head-to-head against even the folks from
AlphaChooser's list of the best variable temperature kettles
, seem to make up for this. It can be set at any temperature within the range of 0 to 212 degrees Fahrenheit (at 10-degree intervals) -- so one can still choose the precise temperature at which the beverage will be prepared. According to a sizable chunk of its 719 customer reviews, this model can achieve the desired temperature in a fast and efficient manner. Although it doesn't have a programmable working time save for the 2-hour keep-warm feature, it appears to still be considered a great product by many tea enthusiasts. To add, the Taiwan glass jar has impressed many consumers for how sturdy and well-made it feels.
However, some people have reported running into some minor trouble when cleaning this variable heat kettle. Apparently, the bottom part of the jar accumulates brown buildup, and to get it all cleaned out takes some effort (I mean, who in his right mind would want to exert some effort these days, right!?!). Several reviewers also pointed out that the instructions were hard to follow, with one even saying that she was positive the instructions manual was written by someone "whose first language wasn't English" . Clearly, its cons may indeed be significant enough to consider for some people, but they really don't have anything to do with how the tea kettle performs.
This 4-star variable electric kettle obviously left a solid impression on its buyers. And for that, we're awarding it the honor of being an Alphachooser good choice for this top 7 ranking.

Alpha
Rank:
#6
Our
Score:
4.1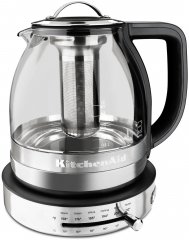 Special:
Removable stainless steel tea steeper, Tea steeper holder
Alpha
Rank:
#7
Our
Score:
3.8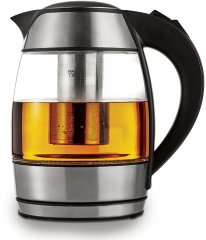 Special:
360-degree swivel base, Auto shut-off, Dry-boil protection

This page offers an ad-free experience, in exchange for "Check Price" and review links to lead to the stores you know, which pay us a commission that has no effect on your price. Items are chosen independently (regardless of price) by our computer review crawler and commented by human analysts. Read more about our
constantly-updating unique ranking system
You Should Also Check Out: