The 3 Best Stainless Steel Toasters As Of October, 2021 (And 4 Other Models)
Stainless steel toasters blend well with any kitchen and are both resistant and stylish, but keep in mind that they may require more cleaning - they are notorious for easily catching fingerprints. Stainless steel models are often higher-end toasters with functions as evolved as motorized lowering and even LCD displays! Some may include side panels that re not stainless but they are still included in this list.
The List:

Best Model 2021
Alpha
Rank:
#1
Our
Score:
9.1/10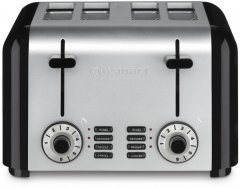 Considering this toaster's average ranking of 91%, we are confident that the Cuisinart CPT-340 is currently Alphachooser's best stainless steel toaster 2021. Furthermore, we think that our 7910 reviews sampled from multiple sources give us a
high
confidence level (
more on confidence levels
) that justifies making it a
"no-brainer best choice."

Stainless Steel

1.5in Or More Slots

Slide-out Crumbtray


Second Best
Alpha
Rank:
#2
Our
Score:
9/10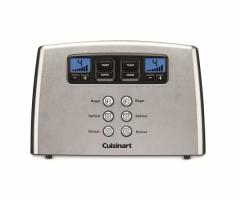 Motorized 4-slice toaster that comes in a stainless steel finish and features blue backlit LCD function displays.

Stainless Steel

Leverless Motorized

Independent Controls


Also Good
Alpha
Rank:
#3
Our
Score:
8.3/10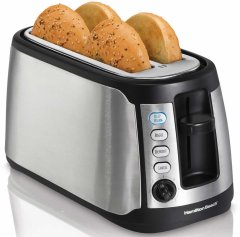 The Keep Warm 4-Slice is a 4-slice stainless steel finished toaster with two extra-wide long slots, featuring a keep-warm mode.

Cool-touch Housing

Stainless Steel

Keep-warm Function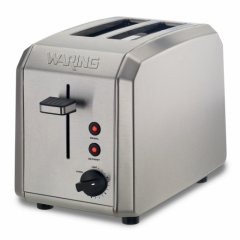 The WT200 is a stainless steel toaster with two 1.3-inch toasting slots, rotating knob with 14 shade selections and LED indicators.

Stainless Steel

Illuminated Buttons

Slide-out Crumbtray
More Stainless Steel Toasters, sorted by the latest model first:
The 2-Slot SO-337T is a stylish stainless steel 2-slice toaster with apparently no bells nor whistles other than its admittedly nice design.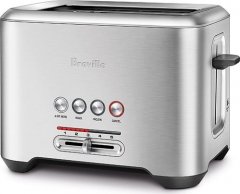 The The Bit More 2-Slice is a 900-watt 2-slice toaster that features the same customized Breville features (A Bit More, Look and Lift) of its 4-slice counterpart.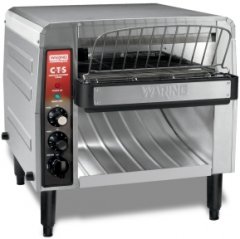 Heavy-duty 1000-slice per hour conveyor toaster which lets you adjust not only speed, but also the power level.

Cool-touch Housing

Stainless Steel


This page offers an ad-free experience, in exchange for "Check Price" and review links to lead to the stores you know, which pay us a commission that has no effect on your price. Items are chosen independently (regardless of price) by our computer review crawler and commented by human analysts. Read more about our
constantly-updating unique ranking system
You Should Also Check Out: