28 Crucial Philips HR1895 Juicer Specs
Also known as: Philips HR-1895, Philips Avance HR1895, Philips Avance Collection HR1895.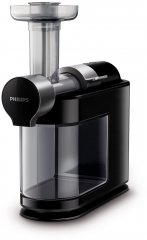 Average rating:

(
90
/100 from
6
reviews)




2 more pictures
Tools
Physical Specifications
Width (inches)
17
Height (inches)
5.7
Depth (inches)
14.1
Width (mm)
433
Height (mm)
146
Depth (mm)
359
Special Included Accessories
Jug /// Recipe booklet
Available colors
Black
Finish
Plastic
Country of assembly
China




Jar features
Jar material
Plastic
Capacity (gallons)
0.26
Capacity (liters)
1
Capacity (quarts)
1.1
Capacity (ounces)
34
Capacity (cups)
4.2
Performance
Security features
Dishwasher-safe, Metal safety lock
Extraction method
MicroMasticating technology
Power cord length
3.28084 feet
Voltage
220 to 240, 50 to 60Hz
Energy Efficiency Class
90% of packaging materials are recyclable
Other Features
Cleaning system
Quickclean, Pre-clean function
Pulp Container Capacity
1 liters
Warranty
2 years
Watts
200
Special
90% of packaging materials are recyclable, Plastic waste container
Manufacture product ID
HR1895/74
User manual
Download manual
* Specifications cannot be guaranteed accurate. Please do your own research before buying a juicer. Manufacturers may have omited some specs, making it difficult for us to know whether or not a specific model has a specific function. If you spot an inaccuracy in this Philips HR1895 description, please let us know as soon as possible.
You Should Also Check Out: