The 3 Best Quiet Dishwashers As Of November, 2020 (And 8 Other Models)
This list of the latest quiet dishwashers includes only dishwashers that satisfy these specs:
To make it to our list, so-called quiet dishwashers must be rated at a low decibel level of 46dB max. (The range of noise emitted by dishwashers can easily go to a quiet 38dB to a noisy 60+dB)

The above requirement for the quietest dishwashers essentially disqualifies most countertop models and many of the portable models, which are generally cheap (because of their target clientele), but you may still find some such dishwashers in our list

Dishwashers marketed as quiet, but without a specific low dB rating or dBA noise rating were not included.
The List:

Best Model 2020
Alpha
Rank:
#1
Our
Score:
4.4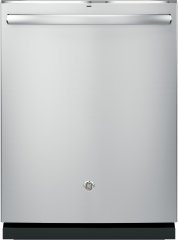 The GE GDT655SSJSS, which has been rated 4.5 stars from 3497 reviews, is a low noise dishwasher that has its own set of good and bad points. We scanned through some of its customer reviews and found that it has indeed cemented its place as one of the quietest dishwashers as of mid-2018, with a noise rating of 46dBA. Like with many of its peers, consumers have reported having to touch and feel the dishwasher to make sure that it is running, since it hardly produces any significant sounds (or at least, compared to what they were used to in their previous models). Additionally, people seem to love its "flexible" loading options and simple controls. Its bottle jets have also been praised and tagged by many as a feature that they "didn't know they needed." The nice-looking modern exterior, which has been reported as fingerprint-resistant in reviews, is a major plus for buyers, as well.
Looking at its less-than-ideal reviews, this GE dishwasher apparently tends to get "too hot" -- even causing the deformation of one buyer's plasticware. This proves to be a good thing for many other people, though, as it helps enhance the quality of drying results achieved. However, some people have found that some cups and bowls tend to retain water in their crevices, since this silent dishwasher doesn't have angled loading for these kinds of dishware.
However, it appears as if the GE GDT655SSJSS's good qualities massively outweigh the bad, and it has thus earned the spot of the best model in this list of quiet dishwashers (Learn how we rank items) with a confidence level of 98 (More on confidence levels).

Stainless Steel Tub

Stainless Version Available

Available In Black

Also In White

Second Best
Alpha
Rank:
#2
Our
Score:
4.6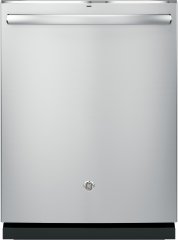 The GE GDT695SSJSS is a 4.5-star low noise dishwasher rated at 45dBA. For context, we've seen dishwashers that go as low as 38dBA, but this product is still quieter than the average across all models (sitting at around 47dBA) as of 2018. Besides, most of its buyers have reported barely hearing any noise during ongoing cycles. One review also mentioned that the sound of the water draining is probably the least quiet part of the entire operation -- and even that isn't disruptive at all.
Another feature that appears to be very well-loved is the third rack, which was designed for silverware. Although there was one consumer who said that this particular rack "felt cheap," an overwhelming number of reviewers raved about its space-saving and convenience factor. The bottle jet clips also proved to be highly-useful for a lot of people.
While most of the reviews we've encountered praised this silent dishwasher's performance in terms of cleaning, opinions about its drying abilities were more divided. Some have reported that cups still came out dripping even after using the "Heated dry" option, while others say that, in their experience, dishes come out clean and dry every time. Several buyers have also noted that its controls were not very intuitive.
Massively-praised for its aesthetically-pleasing design, the GE GDT695SSJSS aced a good number of departments, but also fell behind on some. Nonetheless, the degree by which this product has been praised by loads of consumers have propelled it to the spot of Alphachooser's second best quiet dishwasher 2020.

Stainless Steel Tub

Stainless Version Available

Available In Black

Also In White

Also Good
Alpha
Rank:
#3
Our
Score:
4.3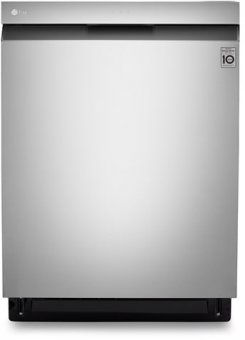 Stainless Version Available

Available In Black

Also In White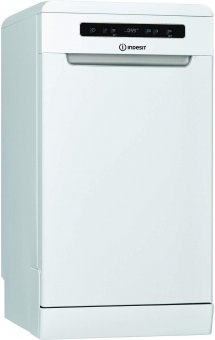 Stainless Steel Tub

Also In White
More quiet dishwashers, sorted by the latest model first: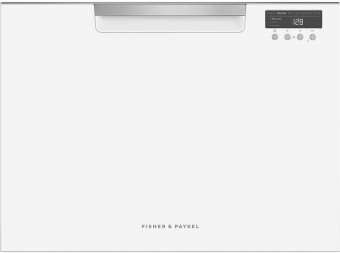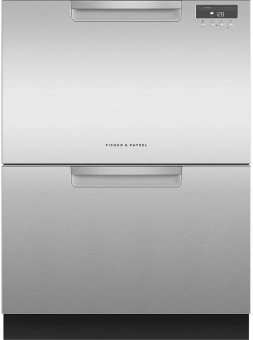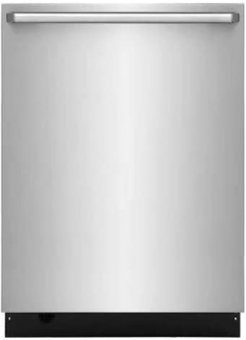 Stainless Steel Tub

Stainless Version Available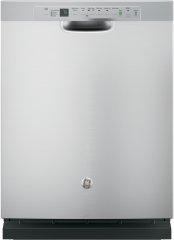 The GE GDF650SSJSS is acknowledged by many consumers (based on its reviews that AlphaChooser has collected from various sources) for its ability to produce clean and spotless dishes without the need to rinse them prior to loading. The bottle cleaner has been very useful, especially for households that have babies on board. And of course, these aforementioned compliments came with commendations about its quietness. At a noise rating of 46dBA, which is 1dBA lower than the category average as of this writing, these remarks are more of a confirmation than a surprise.
Unsurprisingly, this model's slate-finished variant, which is a unique characteristic among its contemporaries, has earned it many admirers, as well (However, if you don't care about appearances and are planning to get your dishwasher all paneled-up, we suggest that you take a look at our best panel-ready dishwashers page).
Most of the negative reviews touch on the topic of cycle time -- saying that this quiet semi-integrated dishwasher takes longer to wash dishes than what they were used to. However, this is a complaint that we see a lot in other dishwashers, as well. Moreover, some people have said that the racks feel a bit flimsy, and we've encountered at least one person who also said the same thing about the silverware basket . However, they were quick to point out that this doesn't affect this (rating temporarily unavailable)-star dishwasher's performance at all.
To end, the GE GDF650SSJSS obviously had been successful in earning the approval of many people, but its lackluster rack quality and long cycle times may have been the culprit behind its failure to break into our top 3 quiet dishwashers ranking.

Stainless Steel Tub

Stainless Version Available

Available In Black

Also In White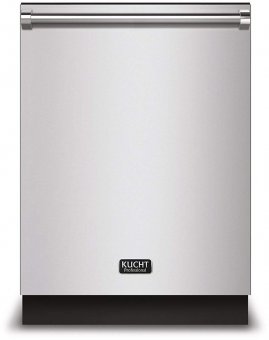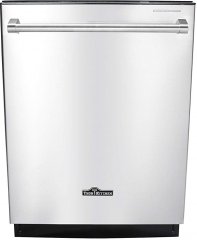 The HDW2401SS has a maximum noise level of 45dBA, which means that it is a bit quieter than the average dishwasher as of mid-2018.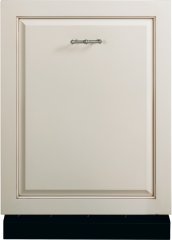 The Profile operates with a 40 dBA noise level, which is still louder than some top-end models boasting levels as low as 37 dB.


This page offers an ad-free experience, in exchange for "Check Price" and review links to lead to the stores you know, which pay us a commission that has no effect on your price. Items are chosen independently (regardless of price) by our computer review crawler and commented by human analysts. Read more about our
constantly-updating unique ranking system
You Should Also Check Out: