17 Crucial Shop-Vac 5821027 Shop Vacuum Specs
Basics
Release year
2016
Release month
4




Performance Features
Peak horsepower
5 HP / 6.7Kw
Air flow
135 CFM (3.82 cubic metre/min.)
Sealed pressure
54
Voltage
120 V
Peak air watts
255
Convenience
Special Included Accessories
Two 2.5-inch extension wands, 14-inch wet/dry floor nozzle, Elbow grip, Hose holder, Tool holder
Warranty
3 years
Tank capacity
10 gallons (Equivalent to 37.85L or 40.0qt.)
Hose diameter
2.5 " (6.35cm)
Included filters
Cartridge filter, Disposable filter bag, Foam sleeve
Physical Features
Power cord length
6 feet
Tank drain
Blower feature
Water pump
Lock-on hose
* Specifications cannot be guaranteed accurate. Please do your own research before buying a shop vacuum. Manufacturers sometimes omit certain functions, making it difficult for us to know whether or not a specific model has a specific function. If you find an error in this Shop-Vac 5821027 spec sheet, please let us know as soon as possible.
You Should Also Check Out: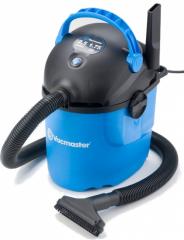 HEPA filters, backwash features and super powers, today's shop vacuums are worth a glance. Take this discovery gallery!