The Latest Track Snow Blowers 2020
If your driveway features a steep hill or if icy conditions are frequent in your area, you might need the extra traction provided by track snow blowers -- which are all, by the way, self-propelled models. Just like construction machinery, track snow throwers increase the friction surface between the machine and your driveway, thus providing greater traction.
All models shown here are track-driven and dual-stage, by definition (Single stage models are usually propelled by their auger).
The List: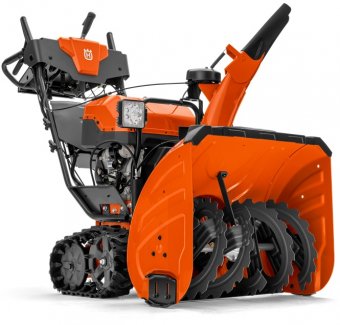 More track snow blowers, sorted by the latest model first: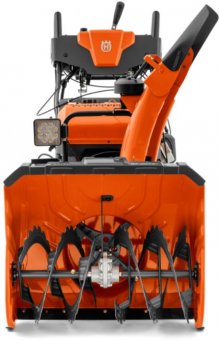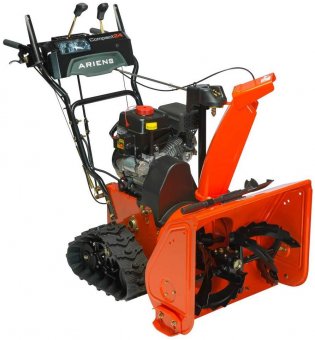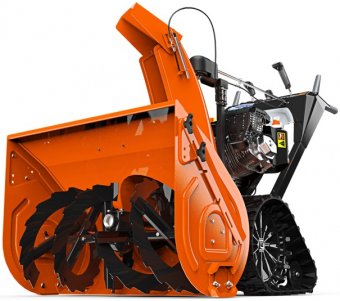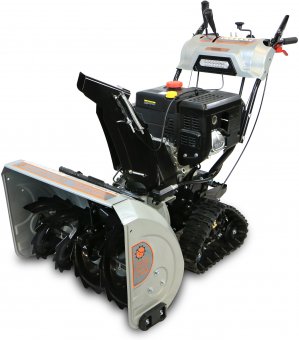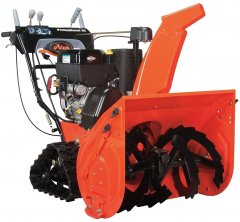 The Ariens 926067 is a two-stage snow blower with a 28-inch clearing width, whose key components include a Briggs and Stratton Polar Force Pro 2100 gasoline engine that delivers 21 ft-lbs of torque to its 16-inch auger and directional snow-tread tracks, and a blowing end that promises to manhandle 79 tons of snow per hour and throw it at 60 feet with its 200-degree rotational chute.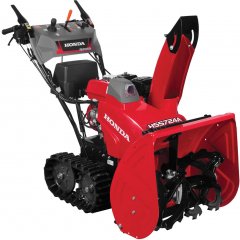 The HSS724ATD is a track-propelled two-stage snow blower baring a Honda GX200 OHV gasoline engine with a 196cc displacement, a 23.8 clearing width and a 21.7 clearing height, an electric start and recoil back-up system, steel serrated ribbon augers with shear bolts, a 1500 lbs/min snow-throwing capacity, and a 12-volt 6W LED headlight as some of its notable details.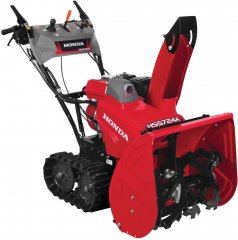 The HSS724AT is a snow thrower with Honda's track-drive system, harnessing a two-stage blower, a 23.8-inch clearing width and a 21.7-inch clearing depth, hurling snow up to 49-feet across its 198-degree chute rotation radius, while lighting up its path using a 6W 12V LED headlight.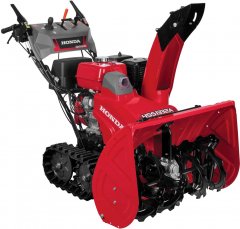 The HSS1332ATD is a two-stage track snow blower from Honda, which is powered by a GX390 OHV gasoline engine with a 389 cylinder displacement, stores up to 1.5-gal of fuel that powers its steel serrated augers to collect and throw around 2750-lbs of snow per minute.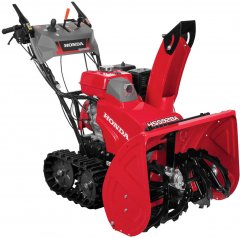 The HSS928AT is a recoil-start only (the ATD version offers electric start, though) track-drive snow blower churning snow 28-inches wide and 21.7-inches deep, employing its 270cc GX270 OHV engine to handle around 1900 lbs/min of snow, with its remote-controlled chute throwing snow up to 52-feet away from its adjustable (in height) auger case.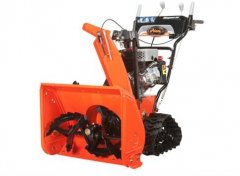 Self-propelled 24-inch track snow blower with a throwing distance of 40 feet sporting a 208cc engine with a gross torque of 9.5.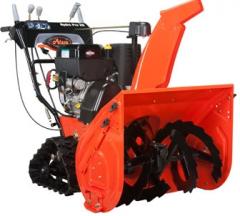 Hydrostatic track-driven 28-inch snow blower with variable speed control.


This page offers an ad-free experience, in exchange for "Check Price" and review links to lead to the stores you know, which pay us a commission that has no effect on your price. Items are chosen independently (regardless of price) by our computer review crawler and commented by human analysts. Read more about our
constantly-updating unique ranking system
You Should Also Check Out: