Compare the Latest 10 Sony Bluetooth Headsets 2017

List of the latest Sony Bluetooth headsets in the order in which they were added to our database (To compare any of the 10 models, just click their Add to compare button):
The 10 latest Sony NFC Bluetooth headsets (as of January, 2017)



Average rating: (84/100 from 5 reviews)

The 100ABN Bluetooth headset builds its music-oriented portfolio through features like aptX and high-res audio support, Beat response control technology for "low-end focused music styles", AI which automatically selects the level of noise cancellation based on ambient noise, and 20 hours of music playback which, to no surprise, requires a relatively-longer charging time of six hours.



Average rating: (88/100 from 303 reviews)

The XB650BT Bluetooth headset is the mid-range model from the Sony Extra Bass line, featuring the noise-cancelling Bass Booster technology, aptX, and above-average working and stand-by times of 30 and 300 hours, respectively -- which unsurprisingly also entails twice the battery charging time



Average rating: (87/100 from 518 reviews over 5 sources)

A 2200-Ohm speaker impedance stands out most in this Bluetooth headset's specs list that also features one-touch pairing (NFC) and a 17-hour music time.



Average rating: (87/100 from 81 reviews over 3 sources)

Touch control panels along with approximately 30 hours of music streaming are some of the key factors of this 11-ounce Bluetooth headset's list of features.



Average rating: (75/100 from 900 reviews over 7 sources)

This NFC-enabled Bluetooth headset places itself in the sports category with a splash-proof IPX4 rating and offers around 8.5 hours of playback on 8.89mm neodymium drivers.



Average rating: (84/100 from 863 reviews over 10 sources)

The MDR-ZX330BT Bluetooth headset could be noted for its music playback time (30 hours) and its 30mm ferrite-magnet drivers.



Average rating: (85/100 from 434 reviews over 6 sources)

A 13-hour music time (19 hours with noise cancellation off) and NFC capability are two of this Bluetooth headset's key features, as well as its included audio cable (Sony says it provides a better sound) and a bass-distortion-control system.



Average rating: (62/100 from 94 reviews over 6 sources)

This Bluetooth headset, which leans toward the sporty end with IPX4 water resistance, can play music continuously for around 4.5 hours with its 6mm dynamic drivers=.



Average rating: (86/100 from 502 reviews over 5 sources)

Stereo Bluetooth 3.0 headset with 650 hours (27 days) of standby time, a music/call remote control, and NFC touch-less technology.



Average rating: (68/100 from 186 reviews over 5 sources)

HD voice-ready, mono Bluetooth headset with 9 hours of talk time and NFC pairing.

You Should Also Check Out: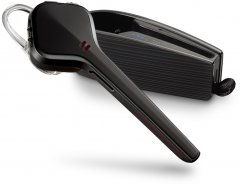 Don't choose the wrong bluetooth headset for your cell phone. From advanced noise reduction technologies to actual built-in LCD displays, Bluetooth headsets and their special features will surprise you!