Compare the Latest 2 AWOW Tablet Computers 2021
List of the latest AWOW tablet computers in the order in which they were added to our database (To compare any of the 2 models, just click their Add to compare button):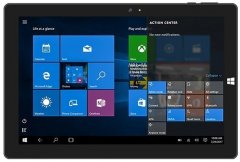 The AWOW SimpleBook has an intel quad-core processor and 4 gigabytes of RAM for handling most tasks. It also embarks rather above-average specs like a 32GB built-in memory (some users may opt for a micro SD card) and a respectable 6000mAh battery.

Joining the group of more-hefty tablets with its 20.8-ounce weight, the budget-class AWOW CQI711S strikes a roughly-average pose with its 8GB of storage capacity, a display resolution of 1024 x 600 pixels, a 2400mAh battery, and 1GB of RAM.

You Should Also Check Out: