The 7 Best Over-the-range Microwave Ovens As Of July, 2021 (And 1 Other Model)
This list presenting the latest Over-the-range microwave ovens includes only microwave ovens that satisfy these specs:
To make it to our best over-the-range microwave list, models must include an exhaust fan located above the stove that acts as an oven hood.

Most over-the-range microwaves (OTR) also include one or more filters and multiple hood speeds

There are typically three over-the-range microwave dimensions: 24-inch, and 30-inch models extendable to 36 inches, and the most low-profile models start at 14 inches (space saver models) but 17 or even 18 inches of height are more typical.

If you are looking to fill up a 36-inch over-range microwave spot, what you need is a 30-inch model and a 36-inch trim kit.
The List:

Best Model 2021
Alpha
Rank:
#1
Our
Score:
4.5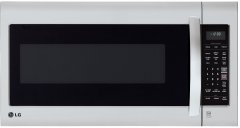 Based on its aggregated ranking of 89%, we conclude that the LG LMV2031ST is, as of now, Alphachooser's best Over-the-stove microwave 2021. Alphachooser also concludes that our sample of 4319 reviews across multiple sources gives us a
high
confidence level (
more on confidence levels
) that prompts us to name it a
"no-brainer best choice."


Finish: Stainless steel (Based on the pictures, we think the smooth white and smooth black models may include some plastic finish)

Available colors: Smooth black, Smooth white, Stainless steel, Black stainless steel

Second Best
Alpha
Rank:
#2
Our
Score:
4.5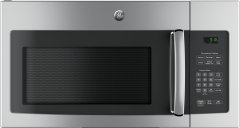 Based on 4.5 stars averaged over 2876 reviews, here is second best Over-the-stove microwave. * This choice (and the following members of this best Over-the-stove microwave models list), is based on a full computation of hundreds of Over-the-stove microwave reviews from across the web.


Finish: ? (Presumably stainless steel for the silver version and painted-metal for the black and white versions)

Available colors: Black, Stainless steel, White
Alpha
Rank:
#3
Our
Score:
4.2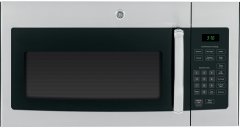 Finish: ? (Presumably plastic, looking at the pictures)
Alpha
Rank:
#4
Our
Score:
4.4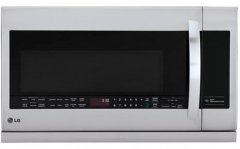 Available colors: Silver (stainless steel)
Alpha
Rank:
#5
Our
Score:
4.3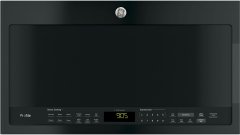 Finish: Stainless steel (We assume the black and white models have a painted-metal finish)

Available colors: Grey, Silver, Black, White
Alpha
Rank:
#6
Our
Score:
4.3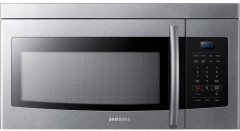 Available colors: Silver (stainless Steel)
Alpha
Rank:
#7
Our
Score:
4.2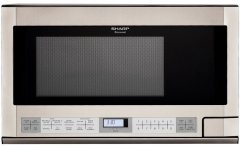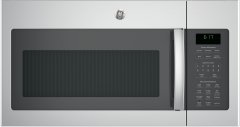 GE JVM6175 Over The Range Microwave

Finish: ? (It looks like painted-metal)

Available colors: Slate (grey), Stainless steel, Black, White
More Over-the-range microwave ovens, sorted by the latest model first:

This page offers an ad-free experience, in exchange for "Check Price" and review links to lead to the stores you know, which pay us a commission that has no effect on your price. Items are chosen independently (regardless of price) by our computer review crawler and commented by human analysts. Read more about our
constantly-updating unique ranking system
You Should Also Check Out: