The 3 Best Vertical Air Conditioners As Of January, 2020 (And 6 Other Models)
Alphachooser's list of the newest vertical air conditioners includes only air conditioners that obey to these criteria:
Vertical air conditioners are designed specifically for roughly 14-inch wide (most are slightly above 14) slider and casement windows, which are narrower (but taller).

To make it to this list, vertical mounted casement air conditioners must be taller than wide and obey an absolute maximum width of 14.5 inches in order to fit narrow windows.

Width values are rounded in the list, but listed specifically on each model's own page.
The List:

Best Model 2020
Alpha
Rank:
#1
Our
Score:
4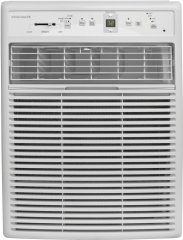 The Frigidaire FFRS1022R1 is a casement window air conditioner with a rating of 10000 BTU, which means that, on paper, it cools rooms of up to 450 square feet (ergo, rooms that are 18 x 25 feet large, or something along those lines). It has a 3.4-pint-per-hour dehumidification rate, a typical washable mesh filter, and a 4-way air deflection system. Many of its 474 reviewers seem to agree that the FFRS1022R1 is a rather energy-efficient unit, which is backed by its relatively-high EER (Energy Efficiency Ratio) of 10.4. Some users report minimal or no increase on their electric bills, while a few others mention that it's way more efficient that the older ACs it replaced -- of course, newer models tend to use less energy.
Like several other vertical mounted air conditioners listed here AlphaChooser, the 4-star FFRS1022R1 comes with a remote control, which a good number of its reviewers found particularly handy. Additionally, in general, users seem to acknowledge that it hits its claimed cooling capacity, with one particular enthusiastic reviewer saying that it works beyond expectations . Another buyer mentioned that this unit cools rooms nicely and spares users the hassle of finding a compatible support bracket, since one is already included in the package.
As for its operational noise, the FFRS1022R1's 61dB maximum noise rating, which was one of the highest among vertical window ACs when we were writing this, might cause some potential buyers to reconsider. However, the verdict on whether or not this is an unbearably-loud unit is still up in the air, since user testimonies are found on both ends of the spectrum.
So, with the help of our automated review crawler, which scoured a total of 943 reviews for vertical air conditioners, we can conclusively say that the Frigidaire FFRS1022R1 is Alphachooser's best vertical window air conditioner 2020 (Learn how we rank items), and that's with a confidence level of 102 (More on confidence levels) topping it off.

Energy Star Compliant

Remote control

Anti-bacterial Filter

Fits 115-120V Power Outlets

Second Best
Alpha
Rank:
#2
Our
Score:
4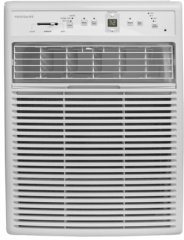 Specifically designed to be installed into casement windows or sliding ones (Ergo, if you want a standard-installation air conditioner, this is not it), the FFRS0822S1 joined Frigidaire's lineup of vertical casement window air conditioners back in 2016, with our ranking algorithm having picked up a total of 364 reviews of this 4-star unit as we were writing this. Of course, there are bound to be some hiccups, including a 1-star review saying that the small casement window air conditioner he was expecting came broken from the get-go, but hey, that's why we have return policies and warranties, right?
Fortunately for this model, only 2 percent of its 364 reviews were 1-star rants (as of this write-up, that is), while its 5-star reviews comprised more than 50 percent. Speaking of 5-star reviews, some happy buyers recommended not just this compact AC unit, but also the installation option offered through Amazon. A few other reviewers also found its energy efficiency to be a significant plus, a pro that probably stems from its 10.9 energy efficiency ratio (EER) (One of the highest in this category), respectable 8000 BTU, and consequent 350-square-feet promised cooling coverage. Its rather slender 14-inch width and remote control also sound like nifty facets for something that you'd put through, in the words of one reviewer, a funky window. A 3-pint-per-hour dehumidification rate joins its features as well.
With that said, considering that our automated choice-making system weaved itself through a total of 943 reviews for small casement window air conditioners, we would definitely find a place for the Frigidaire FFRS0822S1 among your top top 3 choices for vertical air conditioners.

Window Mounting Kit

Energy Star Compliant

Remote control

Anti-bacterial Filter

Fits 115-120V Power Outlets

Also Good
Alpha
Rank:
#3
Our
Score:
4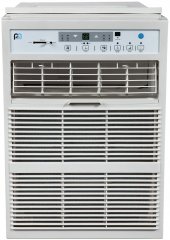 The Perfect Aire 3PASC10000, whose average user rating is 4 stars (We sampled a total of 70 reviews at the time of writing), is a vertical window air conditioner that's best known for its ability to put out some serious cold air -- and rather quickly at that, at least according to some of its buyers . It comes with a relatively high 10000 BTU rating, a standard auto-restart function that saves the latest settings in case of power outages, and a full-function remote control. Its operating modes include sleep, dry, and energy-saving. The 3PASC10000 also offers full-range air deflection controls, which is another way of saying that it can deflect air upwards/downwards and sideways -- some ACs only allow one or the other. For those who do not plan on moving it around (if at all), Perfect Aire throws a window-mounting kit in the package, which one user found particularly easy to set up.
Like a few other vertical casement air conditioners listed here at AlphaChooser, the 3PASC10000 drew some criticism for its operational noise, with a couple of users saying that while it cools great, its operational buzz is unbearable. Another unhappy buyer says that it makes an annoying whistling sound in cool mode, which makes a good night's sleep nearly impossible. That being said, a good number of other users say that it runs quieter that many tantamount models -- plus, truly-silent vertical AC units do not exist anyway. Also, while there were a few cases of broken units or broken accessories, the fact that its 11 percent 1-star review ratio (as of this write-up) is within the acceptable range for vertical AC units sounds a bit consoling to us.
Wrapping up, our shopping algorithm, which we sent out to sample 943 reviews for vertical air conditioners across our sources, concludes that the Perfect Aire 3PASC10000 is an Alphachooser good choice, making it one of the top 3 vertical AC units available today.

Energy Star Compliant

Remote control

Fits 115-120V Power Outlets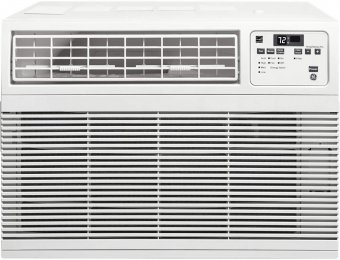 Window Mounting Kit

Energy Star Compliant

Remote control

Fits 115-120V Power Outlets
More vertical air conditioners, sorted by the latest model first: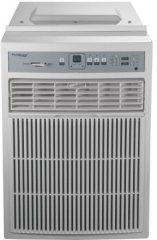 Energy Star Compliant

Remote control

Dehumidification Mode

Fits 115-120V Power Outlets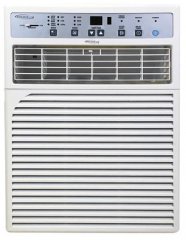 Energy Star Compliant

Remote control

Dehumidification Mode

Fits 115-120V Power Outlets

Energy Star Compliant

Remote control

Fits 115-120V Power Outlets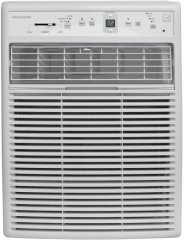 Specifically designed for casement or sliding window installation, the Frigidaire FFRS0833Q1 is a 14.2-inch-wide vertical air conditioner with a BTU rating of 8000, which translates to an on-paper cooling coverage of up to 350 square feet. Like many vertical ACs featured here at AlphaChooser, it comes with a 3-pint-per-hour dehumidifying rate and is accompanied by a full-function remote control.
Many of the FFRS0833Q1's reviewers (There were as we were writing this) praise it for its relatively quiet operation, with one happy buyer saying that it operates quietly enough so as not to drown out the TV audio or nearby conversations -- the same user also noted that its energy saver function, which lets it turn the fan on from time to time to monitor whether the room needs some cooling again, is not loud enough to disrupt your sleep at night . While on the topic of energy-saving, one user mentioned that the Frigidaire did not affect their electricity bill in the slightest. This (rating temporarily unavailable)-star model also received some praise for its apparently easy-to-clean filter and easy installation instructions.
As of this write-up, the only 1-star review given to the FFRS0833Q1 involves a unit that arrived with the load-bearing parts of its mounting kit bent, which, according to the reviewer, made it impossible to install. A couple of other buyers reported some cosmetic issues as well, such as units arriving with noticeable dents and having cracks on both upper corners of its facade. Those criticisms aside, users seem to agree that this model does the job for those who simply want to chill out.
Summing up, our review-crawling algorithm, which cross-examined a total of 943 reviews for vertical air conditioners across various sources, reassures us that the Frigidaire FFRS0833Q1 is a passable choice, but better ones -- in terms of user reviews -- can be found on this AlphaChooser list.

Window Mounting Kit

Energy Star Compliant

Remote control

Anti-bacterial Filter

Fits 115-120V Power Outlets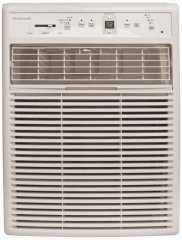 The Frigidaire FRA103KT1 vertical air conditioner's energy efficiency ratio (EER) of 9.5 may not be the highest (many models here on AlphaChooser have EERs of at least 10.8), but its energy saving mode aims to back this up. Its rating of 10000 BTU handles an estimated cooling area of up to 500 square feet, but some customers have reported needing only one unit to cool down an entire floor -- which makes the sheer volume of people calling this 14.5-inch-wide air conditioner a ((Q))workhorse((Q)) unsurprising . So far, it has a combined rating of (rating temporarily unavailable) stars from reviews, with an impressive chunk of these reviews (around 72 percent as of this writing) being 4-stars or higher.
The included window mounting kit seems to have made things a lot simpler for people, as reviews generally remark that this vertical mounted air conditioner is easy to install. Its exhaust feature has been widely-appreciated, as well as the force with which it reportedly moves cool air around. While a lot of reviewers have said that this Frigidaire A/C is fairly-quiet, there were a few who've reported otherwise. As such, it's safe to conclude that deciding whether this model is silent enough depends on individual levels of tolerance.
We've seen a lot of reviewers who've ended up with an extra mounting bracket at the end of installation, mostly because Amazon apparently suggests buyers to purchase a separate one, in spite of this casement air conditioner already coming equipped with such a tool inside the package, as mentioned above. However, most of these people still chose to give the item high marks, as the lapse -- which you should take note of, obviously -- may lie, from what we understand, with Amazon and not the product itself.
.

Window Mounting Kit

Energy Star Compliant

Remote control

Fits 115-120V Power Outlets

This page offers an ad-free experience, in exchange for "Check Price" and review links to lead to the stores you know, which pay us a commission that has no effect on your price. Items are chosen independently (regardless of price) by our computer review crawler and commented by human analysts. Read more about our
constantly-updating unique ranking system
You Should Also Check Out: