Here Are The Top 10 Best Japanese Rice Cookers 2022
Alphachooser's list of the newest Japanese rice cookers includes only rice cookers that obey to these criteria:
For our Japanese rice cooker list, we included exclusively products from known Japanese manufacturers, which include rice cookers from Tiger Corporation, Panasonic and, of course, Zojirushi (whose name alone sounds quite Japanese, doesn't it?)

Expect more elarborate functions and rice type options than with non-japanese rice cookers, such as sticky rice presets and models with fuzzy logic
The List: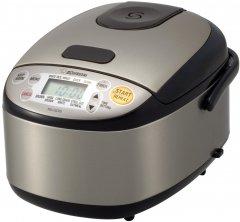 This page offers a low-ad experience, in exchange for "Check Price" and review links to lead to the stores you know, which pay us a commission that has no effect on your price. Items are chosen independently (regardless of price) by our computer review crawler and commented by human analysts. Read more about our
constantly-updating unique ranking system
You Should Also Check Out...