Compare the Latest 5 Apple Smart Watches 2022
List of the latest Apple smart watches in the order in which they were added to our database (To compare any of the 5 models, just click their Add to compare button):


The Two Latest Apple Fitness Smart Watches (as Of July, 2022)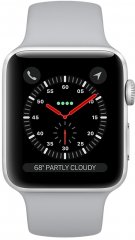 The Apple Watch Series 3 smartwatch with a memory of 16GB adds a voice-controlled via Siri call and text feature without the need to connect to a phone, an updated Bluetooth version of 4.2, and more fitness-related specs like the emergency calls and score monitoring to compete against others to its Series 2 predecessor.
Three Recent Basic Apple Smartwatch Models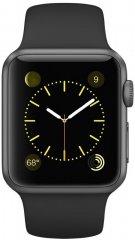 Apple's first foray into the smartwatch category with voice and gesture controls, a digital rotary-crown for added functions, and an integrated heart rate monitor all packed into a 10.5-inch thick body weighing only 40-grams.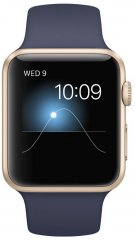 This bigger fitness-tracking smartwatch model only works with the Apple's iOS ecosystem (iOS 8 or higher), pushes notifications and messages from compatible iPhones directly to its retina display using bluetooth 4.0 connectivity, and is controlled via voice, touch, as well as physical buttons, all enclosed in a 10.5mm thick shell like its 38mm sibling.
You Should Also Check Out: