The Best Toaster Oven With Toaster And 5 Other Models As Of April, 2021
Both toasters and toaster ovens are essential devices for a kitchen countertop. While some may argue that a toaster oven plays the role of both, the fact remains that toasting is quicker and more effective with a toaster than with an oven. But having both devices means takes a lot of space. The following combo toaster ovens with an actual toaster attached are one potential solution.
These smart space-saving devices allow you to toast your bread in the conventional toaster, and also cook pizzas or roast chicken with the oven. Most of these toaster-toaster oven combo devices come with an easy switching mechanism which helps you toggle between the toaster and the oven. While the toaster is usually equipped with either two or four extra-wide toasting slots and a bread lifter, the oven usually features a countdown timer and comes with a bake pan and an oven rack. Some of these toaster ovens with toasters also come with separate crumb trays for the oven and the toaster, which make cleaning easy.
The List:

Best Model 2021
Alpha
Rank:
#1
Our
Score:
4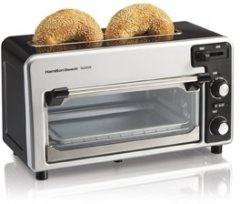 Given this toaster oven's compound rank of 80%, we are confident that the Hamilton Beach 22720 Toastation is currently Alphachooser's best toaster oven with toaster 2021. Furthermore, we think that our 6154 reviews sampled across multiple sources give us a
high
confidence level (
more on confidence levels
) that justifies making it a
"no-brainer best choice."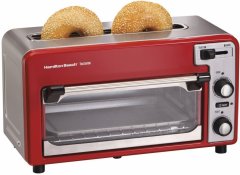 Toaster and toaster oven combo with a long toasting slot for two slices and a claim that it toasts 30% faster.

More Toaster oven with toaster combos, sorted by the latest model first: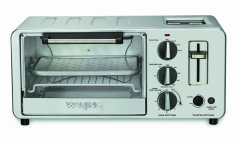 The Waring Pro WTO150 toaster oven features a built-in 2-slice toaster.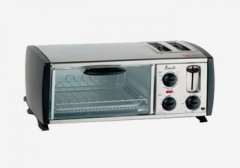 The Avanti Combo saves space by serving both as a toaster and an oven.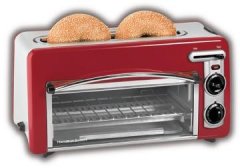 Smaller but versatile toaster-oven that can also work as a regular 2-slice toaster designed to save space.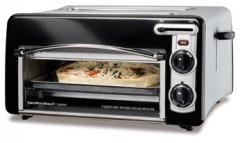 The 24708 4-Slice Toastation features two bread slots to toast 4 slices at once.


This page offers an ad-free experience, in exchange for "Check Price" and review links to lead to the stores you know, which pay us a commission that has no effect on your price. Items are chosen independently (regardless of price) by our computer review crawler and commented by human analysts. Read more about our
constantly-updating unique ranking system
You Should Also Check Out: