The 7 Best 7-inch GPS For Cars October, 2021 (And 1 Other)
Our list presenting the latest 7-inch GPS for cars includes only GPS that satisfy these specifications:
Of course, they must feature a 7-inch display, which is increasingly becoming a must-have display size

Most models also include lifetime map updates, a feature we strongly recommend

We tried to focus essentially on car 7-inch GPS models, excluding systems made for other vehicle types, which are covered in other lists: See RV GPS and GPS systems for truckers
A growing number of RV GPS units include dash cams, but were not included in this list (please see our specific best RV GPS list, which also covers dashcam models), which is meant mostly for car GPSes (and some truck models with dash cams).
The List:

Best Model 2021
Alpha
Rank:
#1
Our
Score:
9.1/10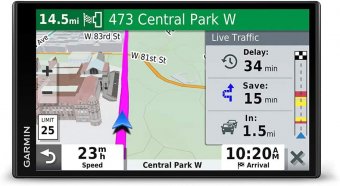 Because of its overall ranking of 91%, we determined that the Garmin DriveSmart 65 & Traffic is, as of now, Alphachooser's best 7-inch GPS 2021. We also believe that our 12949 reviews sampled across multiple sources give us a
high
confidence level (
more on confidence levels
) that justifies to call it a
"no-brainer best choice."


Second Best
Alpha
Rank:
#2
Our
Score:
8.9/10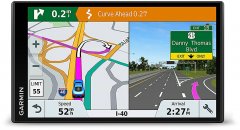 The 4.5-star Garmin DriveSmart 61 LMT-S may have a 6 in its name, but it makes it to the 7-inch GPS class (6.95 inches, to be exact) with its 1024 x 600 display. Leading its features are a bunch of real-time services, including Live Traffic. Like many models in the car GPS category, it also supports Bluetooth calling, as well as a voice-activated navigation -- hands-free GPS interaction is the obvious way to go when taking long journeys, after all. Garmin also rigged this 7-incher with an inbuilt Wi-Fi adapter as a means of making software- and map-updating more convenient.
As of this write-up, this 7-inch GPS's ratio of 1-star reviews sat at a comfortably-low 9 percent (a feat for a GPS, knowing how they rarely gather very high scores) -- it has a total of 6993 reviews to date. Some of the recurring complaints revolved around its apparently unpromising battery life (another classic GPS feature, considering that they spend most of their lives plugged in anyway), with some buyers describing such facet as horrible. A few other buyers cited its tendency to glitch out when accessing the unit's extra features, while some noted that it usually provides sub-optimal routing, although grievances like the latter should always be taken questioningly, since every GPS gets its share of routing complaints.
As for its positive feedback, a lot of users find this 7-inch car GPS's voice controls favorable, although some cautioned that it might have trouble with specific street names or business addresses. A good number of reviewers also praised its touch responsiveness and screen readability, which we guess are byproducts of its relatively large form factor.
So, given its rather favorable stature after all the reviews, it looks like a spot among the top 7 car GPS systems is at the DriveSmart 61 LMT-S's fingertips.

Alpha
Rank:
#6
Our
Score:
6.1/10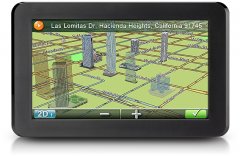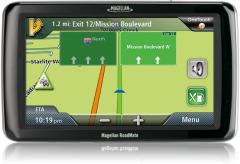 Higher-end 7-inch GPS, but without free lifetime map updates and only 30 minutes of battery life. There is also a speakerphone.

More 7-inch GPS for cars, sorted by the latest model first:

This page offers an ad-free experience, in exchange for "Check Price" and review links to lead to the stores you know, which pay us a commission that has no effect on your price. Items are chosen independently (regardless of price) by our computer review crawler and commented by human analysts. Read more about our
constantly-updating unique ranking system
You Should Also Check Out: