The 7 Best Motorcycle GPS Systems As Of May, 2020 (And 0 Other Model)
All motorcycle GPS units have specific features that cater to motorcyclists, the ruggedness being the most common one, for obvious reasons -- protection from dust and water is usually standard. But other features include special bike routing or even music playback features.
Displayed in this list are GPS units that rival in bike-centric innovations, including UV ray resistance and traffic and weather radars designed specifically for bikers. For routing, there are features like Route Management, which lets you create, edit, and upload routes, and Trip Planners for a more personalized road trip, including a feature that favors curvy roads -- as seen in some Garmin zumo models. Some bike GPS systems also offer entertainment via built-in media players and compatibility with other devices, such as iPods and iPhones and we saw other interesting ideas, such as a special carrying case or a digital fuel gauge.
Some of the bike GPS models listed here can also be used in cars, but all the units shown here are above all bike GPS systems.
The List:

Best Model 2020
Alpha
Rank:
#1
Our
Score:
4.4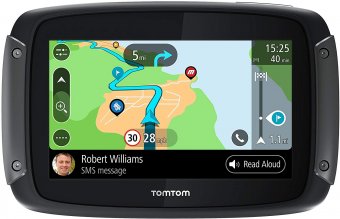 Even with a lower sample of reviews, considering its average rank of 88%, we determined that the TomTom Rider 550 is currently Alphachooser's best Motorcycle GPS 2020. We also believe that our 740 reviews sampled from our sources give us a
safe-enough
confidence level (
more on confidence levels
) that allows us to call it
the most interesting choice
as of now.


Display size is
4.3
inches

Second Best
Alpha
Rank:
#2
Our
Score:
4.1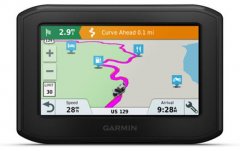 With its star rating of 4 over 516 reviews, we rank this Garmin model second best Motorcycle GPS. * Btw, our choices are based on an in-depth analysis of hundreds of Motorcycle GPS reviews from multiple sources.


Display size is
4.3 (4.25")
inches

Included accessories:
Motorcycle power cable, Automotive power cable
Alpha
Rank:
#3
Our
Score:
4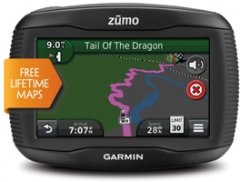 Included accessories:
USB cable, automotive mount, automotive power cable

Special:
Trip Planner via Base Camp, Curvy Roads
Alpha
Rank:
#5
Our
Score:
3.8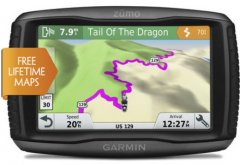 Display size is
5
inches

Included accessories:
USB cable, Automotive suction cup mount and power cable (for occasional car use)

Alpha
Rank:
#6
Our
Score:
3.7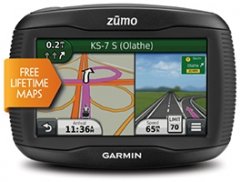 Included accessories:
motorcycle mount (with mounting hardware), car suction cup mount, power cable, USB cable

Special:
Service HistorygLog, trip computer
Alpha
Rank:
#7
Our
Score:
3.1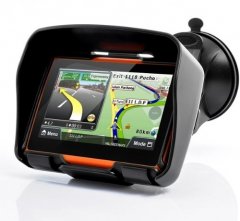 Included accessories:
Mounting Bracket, Suction Mount, Cradle, USB Cable, Power Cable

This page offers an ad-free experience, in exchange for "Check Price" and review links to lead to the stores you know, which pay us a commission that has no effect on your price. Items are chosen independently (regardless of price) by our computer review crawler and commented by human analysts. Read more about our
constantly-updating unique ranking system
You Should Also Check Out: