The 5 Best GPS With Dash Cam August, 2021 (And 6 Other Models)
Alphachooser's list of the newest GPS with dash cam includes only GPS that obey to these criteria:
Obviously, they must include a built-in dash cam

Preferably, GPS with dash cams must also come with sufficient built-in memory to save the cam(')s images.
The List:

Best Model 2021
Alpha
Rank:
#1
Our
Score:
4.4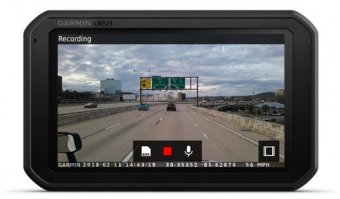 Based on its aggregated rank of 87%, we conclude that the Garmin dezlcam 785 LMT-S is currently Alphachooser's best dashcam gps 2021. Alphachooser also concludes that our sample of 1846 reviews across multiple sources gives us a
high
confidence level (
more on confidence levels
) that justifies calling it a
"no-brainer best choice."



Second Best
Alpha
Rank:
#2
Our
Score:
4.3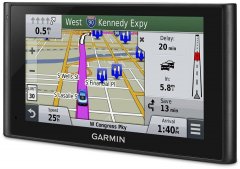 The Garmin NuviCam LMTHD is a 6-inch car GPS with a built-in dash cam, only 30 minutes of battery time, and some premium driver awareness features like Forward Collision and Lane Departure Warnings.


Alpha
Rank:
#3
Our
Score:
4.2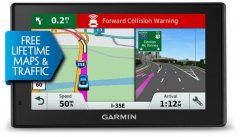 The Garmin DriveAssist 50LMT is a 5-inch voice-controllable car GPS that goes with the flow of having a built-in dashcam and uses it in particular for lane-departure and forward-collision warnings.


Alpha
Rank:
#4
Our
Score:
3.7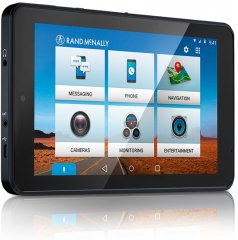 The Rand McNally OverDryve 7C is an inferior, but also cheaper version of the OverDryve 7 Car GPS, the 7-inch Rand McNally 7C can function as a tablet because of its Android 6.0 operating system, includes a 5-megapixel DashCam and houses some rather above-average specs, such as a 1GB RAM, a 2800mAh battery, and a 16GB memory, all packed in its 0.8-pound body with a 5-megapixel rear dash cam.


Alpha
Rank:
#5
Our
Score:
3.6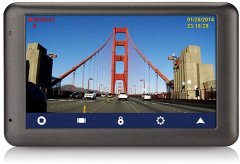 The Magellan RoadMate 6220-LM DashCam Navigator is a 5-inch dash-cam GPS sporting an HD cam with a wide-angle lens (120 degrees) and a G-Shock sensor (to saveguard crash/event data), and free lifetime map updates.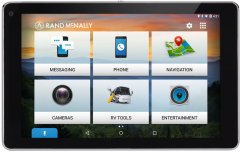 The Rand McNally OverDryve 7 RV is an RV GPS with almost the same features as those of its car version, from its Android tablet-like capabilities, the 1280 x 800 display resolution, the 8-megapixel dash cam and 2-megapixel front camera, and the 6-hour battery life -- except that the RV GPS(')s POIs focus more on RV parks and centers (unsurprisingly).


More GPS with dash cam, sorted by the latest model first: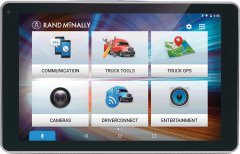 The Rand McNally OverDryve 8 Pro is a truck GPS that doubles as an Android tablet with its 8-megapixel front and 2-megapixel back camera (that acts as a dashcam), SiriusXM radio (with three months free), 8-inch display, Wi-Fi, and the expected truck-specific features, like e-log, voice assistance and hands-free calling and texting.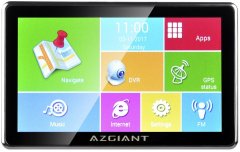 The Azgiant NT-80 is a 7-inch truck GPS that encompasses a dash cam with a night vision feature, 150-degree wide angle vision and records at 1080p. Its 16-gigabyte internal memory and surprisingly-thin 6mm body complete the picture.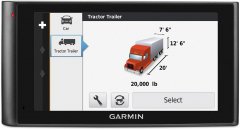 The Garmin DezlCam LMTHD is a 6-inch truck GPS with a built-in dash cam and a powered magnetic mount (for easy removal), only 30 minutes of usage without the plug, plus classic truck safety navigation warning features (bridge heights, weight limits, etc.).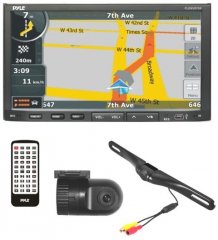 The Pyle PLDNVR708 is a 7-inch GPS and entertainment system kit that includes a stereo receiver, Bluetooth wireless streaming, multimedia controls, a basic GPS unit, and a 1080p dash cam plus a backup camera.



The Pyle PLCMDVR7G is a Bluetooth-capable rear-view mirror-mounted 4.3-inch car GPS featuring a built-in adjustable swivel 1.3-megapixel camera, and offering video input capabilities, including picture in picture display and automatic collision record function.


This page offers an ad-free experience, in exchange for "Check Price" and review links to lead to the stores you know, which pay us a commission that has no effect on your price. Items are chosen independently (regardless of price) by our computer review crawler and commented by human analysts. Read more about our
constantly-updating unique ranking system
You Should Also Check Out: