The 2 Best Ceramic Electric Kettles January, 2020 (And 6 Other Models)
This list of the latest ceramic electric kettles includes only electric kettles that satisfy these specs:
Electric ceramic kettles mix style and convenience, being cordless with a detachable base, just like other electric kettles, but looking just like a ceramic kettle

Our list includes only cordless models
The List:

Best Model 2020
Alpha
Rank:
#1
Our
Score:
4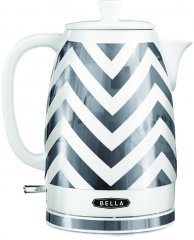 Considering this electric kettle's average ranking of 75%, we are confident that the Bella Ceramic 14537 is currently Alphachooser's best ceramic electric kettle 2020. Furthermore, we think that our 373 reviews sampled from our sources give us a
high
confidence level (
more on confidence levels
) that justifies making it a
"no-brainer best choice."


Capacity (liters):
1.8

Capacity (ounces):
60.86

Watts:
1200 watts

Second Best
Alpha
Rank:
#2
Our
Score:
3.5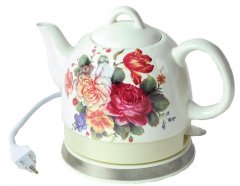 With its star rating of 3.5 over 104 reviews, here is what we consider second best ceramic electric kettle. * This list, by the way, is based on an in-depth analysis of hundreds of ceramic electric kettle reviews from around the web.


Capacity (liters):
1.01

Capacity (ounces):
34

From the manufacturer:
"Quiet boil, Heats quickly"



Capacity (liters):
1.2

Capacity (ounces):
41

Watts:
1000 watts
More ceramic electric kettles, sorted by the latest model first: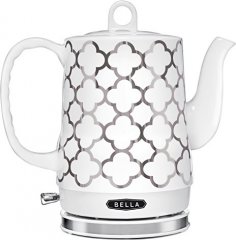 Capacity (ounces):
40.58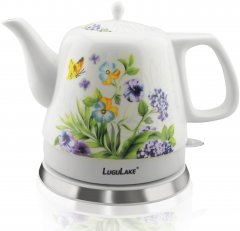 Special:
Chinese or STRIX controller option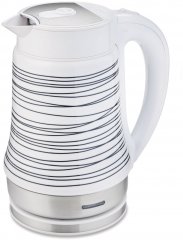 Capacity (liters):
1.7

Capacity (ounces):
57.48

This page offers an ad-free experience, in exchange for "Check Price" and review links to lead to the stores you know, which pay us a commission that has no effect on your price. Items are chosen independently (regardless of price) by our computer review crawler and commented by human analysts. Read more about our
constantly-updating unique ranking system
You Should Also Check Out: