The 4 Best 95-pint Dehumidifiers February, 2020 (And 3 Others)
Our list showing the newest 95-pint dehumidifiers includes only dehumidifiers that obey to these rules:
95-pint dehumidifiers (95-pint, instead of 90 pints, seems to have ended up the industry de facto standard for very damp basements and large areas. The 90-pint mark is more associated to crawl-space dehumidifiers and restoration models: See our Restoration Dehumidifier List) are to be used as serious basement dehumidifiers for homes, offering 28% more daily performance than the closest lower industry-standard dehumidifying level of 70 pints per day (we also have a top list for 70-pint models). They'll dehumidify basements of more than 1000 square feet with high humidity

Their typical noise level (around 56 decibels) makes them too much for small rooms or living areas. Confine them to the basement only.

AlphaChooser manages to spot the best 95-pint dehumidifiers using a fully-automated and accurate computer algorythm that factors in thousands of dehumidifier reviews from around the web (Learn how we rank for more on this).
The List:

Best Model 2020
Alpha
Rank:
#1
Our
Score:
4.5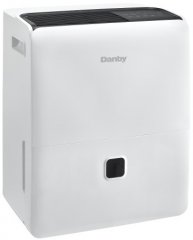 Despite a small review count, given this 95-pint dehumidifier's aggregated ranking of 90%, we believe that the Danby DDR095BDPWDB is currently Alphachooser's best 95-pint dehumidifier 2020. Furthermore, we think that our sample of 90 reviews from our sources gives us a
safe-enough
confidence level (
more on confidence levels
) that pushes us to call it
the most interesting choice
as of now.

Includes A Drain Pump

Energy Star Certified

Top Air Discharge

24h On-off timer

2 Fan Speeds

Auto-defrost


Second Best
Alpha
Rank:
#2
Our
Score:
4.1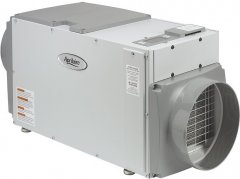 Based on 4 stars averaged over 81 reviews, here is what we consider second best 95-pint dehumidifier. * These choices are based on a full computation of hundreds of 95-pint dehumidifier reviews from around the web.



Also Good
Alpha
Rank:
#3
Our
Score:
3.5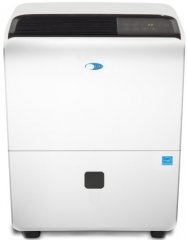 Includes A Drain Pump

Energy Star Certified

Top Air Discharge

24h On-off timer

2 Fan Speeds

Auto-defrost

self-draining

Also Good
Alpha
Rank:
#4
Our
Score:
3.4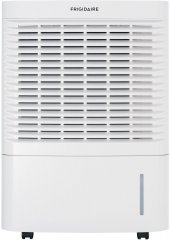 Claiming a minimum humidity of 35 percent and a 53dB maximum noise level that makes it sound quieter than most other 95-pint dehumidifiers (They typically reach operational noise levels of 55-58dB), the Frigidaire FAD954DWD has an average rating of 3.5 stars after 198 reviews. It comes with a typical top-mounted control panel and is equipped with caster wheels.
Most of the positive feedback about this model revolve around its satisfactory dehumidifying capacity, with one buyer claiming that it brought his basement's intolerable 70-80 percent humidity level to a comfortable 45 percent. This unit also comes with a 6-feet-long power cord, hoping to make extension cords unnecessary. The FAD954DWD is equipped with a mere 1.16-gallon water tank, which sounds surprisingly small, coming from a dehumidifier that pulls moisture out of the air at a rate of 95 pints per day -- a lot of alternative 95-pt units featured here at Alphachooser have water tanks with around 2.6-gallon capacities (make sure to check out the rest of this list for such models). That said, Frigidaire did equip it with a continuous draining option. A few other satisfied customers noted a decrease in their electricity bills, despite the weather having been wetter for certain periods.
While most of its reviewers noted that it is a great model in terms of actual dehumidifying, however, several unhappy buyers complained that their Frigidaire FAD954DWD units stopped working within the first year of operation -- a couple of them even reported malfunctions after just two months. Others mention bad experiences with an incessant F0 error code, which prompted most of them to contact the brand for a replacement.
When it's all said and done, our shopping algorithm, after rummaging through a total of 601 reviews for 95-pint dehumidifiers, determined that the Frigidaire FAD954DWD is an Alphachooser good choice, finding itself in our list of the top 4 dehumidifiers in this category.

Top Air Discharge

Garden-Hose Drain

On-off timer

3 Fan Speeds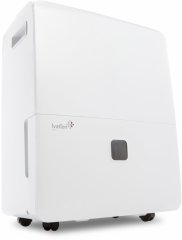 Includes A Drain Pump

Energy Star Certified

24h On-off timer

2 Fan Speeds

Auto-defrost
More 95-pint dehumidifiers, sorted by the latest model first: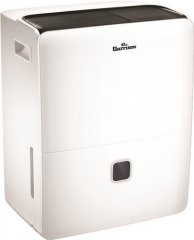 Energy Star Certified

Top Air Discharge

24h On-off timer

2 Fan Speeds

Auto-defrost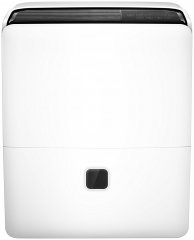 The Impecca IDM95-TEP is a 95-pint dehumidifier equipped with a drain pump in conjunction with an external hose hookup, enabling continuous and vertical draining. It features a comfort mode that automatically adjusts the settings to a comfortable setting, a removable filter, a 2.62-gallon water reservoir that some reviewers think could have been larger, considering its 95-pint-per-day dehumidifying rate. This Energy-Star-certified Impecca dehumidifier comes with an eco-friendly R-410A refrigerant and ships with a 2-year brand warranty, which is twice the standard 1-year warranty offered by most other models from competing brands listed here at Alphachooser.
Many of its enthusiastic reviewers (It had a total of reviews as we were writing this) praised it for its quiet operation, despite its high dehumidifying capacity. Some say that it's operational buzz is very quiet, while others mention that while it does not have a whisper quiet operation, as Amazon puts it, it's not loud enough to keep you from having a good night's sleep. On the contrary, one particular buyer complained that it's really loud (noise tolerance is subjective, after all), but at the same time praised it for successfully cleaning the air.
Speaking of its dehumidifying performance, some users report that this (rating temporarily unavailable)-star unit caused desirable drops from unbearable moisture levels of 70-80 percent down to only 40-50 percent -- the IDM95-TEP has a minimum humidity rate of 35 percent. Others kept their comments simple, saying that this unit works like a charm.
Anyhow, here's what our automated review crawler, which examined a grand total of 601 reviews for 95-pint dehumidifiers, says about the Impecca IDM95-TEP: It deserves no special attention, at least compared to the top-rated alternatives presented on this list.

Includes A Drain Pump

Energy Star Certified

Top Air Discharge

Garden-Hose Drain

2 Fan Speeds

Auto-defrost

self-draining

This page offers an ad-free experience, in exchange for "Check Price" and review links to lead to the stores you know, which pay us a commission that has no effect on your price. Items are chosen independently (regardless of price) by our computer review crawler and commented by human analysts. Read more about our
constantly-updating unique ranking system
You Should Also Check Out: