The 7 Best Bathroom Dehumidifiers As Of July, 2019 (And 1 Other Model)
Our list showing the newest Bathroom dehumidifiers includes only dehumidifiers that obey to these rules:
For Bathroom dehumidifiers, our system covers portable electric (non-electric models, meant mostly for closets, wouldn't be enough for a restroom, in particular if it sports a shower) quiet dehumidifiers (most use the thermoelectric system)
Tank capacity matters too, as you do not want to have to empty it all the time (and again, bathrooms tend to generate humidity, that's what bathrooms do, right?), we put the red line at 2 pints, but you will notice that some of the best models our system found have holding tanks of up to 5 pints or more.
Do not expect the same performance as that of basement dehumidifiers, which dehumidify at a rate of 30 to 70 or even 95 pints per day, while bathroom dehumidifiers more typically perform at a rate of 1 to 4 pints per day, sometimes even less than one pint. That's the tradeoff that comes with whisper quiet noise levels.
Finally, whenever possible, we mention the noise rating, but rarely so, as many manufaturers do not mention their models' decibel rate. However, keep in mind that all thermoelectric dehumidifiers are, by definition, very quiet (that is: comparable to high-end dishwashers... those that you can barely hear)
The List:

Best Model 2019
Alpha
Rank:
#1
Our
Score:
4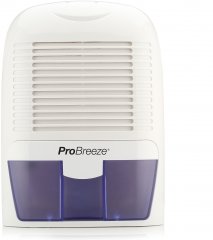 The Pro Breeze PB-03-US is a small, thermo-electric bathroom dehumidifier whose key perks include an auto-shutoff feature for when its averagely-sized 3.2-pint water tank fills up and an 18-ounce daily dehumidifying rate (1.12 pints). Its water tank, according to one user, takes up to 3 days to fill up, which means it needs emptying a couple of times in a week, though it obviously varies, depending on how humid the room is to begin with.
Many of its 1703 reviewers (66 percent as of this AlphaChooser write-up) rated it at 5 stars largely for being lightweight and having a relatively neat design as well as for its actual moisture-pulling performance -- its average user rating, by the way, sits at 4 stars. Users also generally liked its quiet operational noise, which is due to its aforementioned using the Peltier electric module. One particular buyer considers it a lifesaver, successfully bringing down the humidity level in their 10 x 12 feet shop, which stores a lot of metals that are prone to rusting , while others simply described it as a great little machine or a small and quiet unit that's worth the money.
Sadly, not all of its buyers are satisfied, with one of them saying that while the PB-03-US looks good on the outside, its actual performance is not as promising, mentioning that their standalone humidity sensor did not go down one bit while the unit was running. Another unhappy buyer noted that their PB-03-US stopped working after only a couple of weeks, inferring that it was because of the unit's malfunctioning auto-shutoff feature. However, with only 13 percent of its total review count being 1-star rants, those cases seem to be isolated.
At the end of the day, our shopping algorithm, which aggregated 3154 reviews for bathroom dehumidifiers across various sources, considers the Pro Breeze PB-03-US as Alphachooser's best Bathroom dehumidifier 2019 (Learn how we rank items) and tops it off with a confidence level of 100 (More on confidence levels).


Second Best
Alpha
Rank:
#2
Our
Score:
4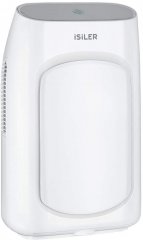 With its star rating of 4 averaged from 175 reviews, here is second best Bathroom dehumidifier. * Btw, our choices are based on an in-depth analysis of hundreds of Bathroom dehumidifier reviews from across the web.

Alpha
Rank:
#4
Our
Score:
4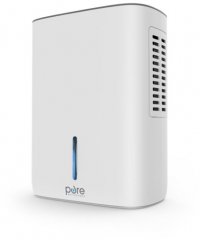 A pretty straightforward bathroom dehumidifier both in terms of functionality and design, the Pure Enrichment PEDEHLRG gained a lot of praise from its 64 reviewers (63 percent of them gave it a perfect 5-star score as of this AlphaChooser write-up) for combining an appreciable dehumidifying capability with whisper-quiet operation -- one particular buyer says that it remains very quiet regardless of whether its speed is set to high or low. It comes with an auto-off timer for conserving power and a transparent water tank that makes it a tad easier to keep track of its water level. A couple of enthused shoppers also loved the fact that it manages to rid the air of allergens and musty odors on top of drying it.
As for its looks, the 4-star PEDEHLRG has been described as a well-made bathroom unit. One particular buyer says that it has one of the best designs out there, while another one says that this unit's attractive design even compliments the room's overall aesthetics . Another buyer mentions that it's perfect for a 12 x 18 feet studio apartment, where it manages to fill up to three quarters of its 0.4-gallon tank capacity daily while running alongside a window air conditioner. One other shopper even called it a must-have for those who own RVs or campers.
This Pure Enrichment unit has its fair share of unimpressed buyers, with a couple of them noting that their PEDEHLRG units barely remove moisture out of the air and are louder than you might expect, but these complaints were easily overpowered by the positive feedback as we were writing this.
At the end of the day, according to our review-crawling algorithm, which sampled a total of 3154 reviews for portable dehumidifiers for bathrooms, the Pure Enrichment PEDEHLRG is an Alphachooser good choice and, subsequently, is one of the top 7 bathroom dehumidifiers on the market today.

Alpha
Rank:
#5
Our
Score:
4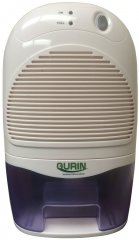 Sort of a big brother to the
DHMD-210
, which is also featured here at AlphaChooser, the Gurin DHMD-310 is a bathroom dehumidifier that is best known for its quiet operation, which is a typical pro for small peltier thermo-electric units. This portable 4-star Gurin model, which, by the way, sat on at least 172 reviews at the time of writing, also received some positive feedback for its performance, particularly its ability to rid the air of nasty smells, prevent mold buildup, and remove any threat of mildew.
Despite being primarily designed for bathrooms, a good number of its reviewers use this quiet dehumidifier (Some liken its operational buzz to that of white noise) to dry out other places as well. For instance, one of its happy buyers claims that it is perfect for those trying to dry out kitchen cabinets and drying racks, while a couple of others have their DHMD-310 units running in fifth-wheel and 27-feet campers, largely for when the rainy season comes around. Another buyer simply says that it should satisfy anyone with a small room who needs a little help with humidity .
One big complaint that some users have about this peltier dehumidifier for bathrooms is that its cord power box gets extremely warm. Additionally, this tiny portable unit received some flack for working fine before totally breaking down after just several months.
At the end of the day, after sending our review crawler off to analyze a total of 3154 reviews for bathroom dehumidifiers across our sources, the Gurin DHMD-310 winds up as still one of the top 7 bathroom dehumidifiers available today -- it is an Alphachooser good choice, to be exact.

Alpha
Rank:
#6
Our
Score:
4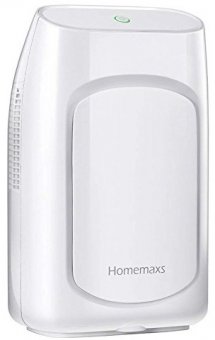 Alpha
Rank:
#7
Our
Score:
3.5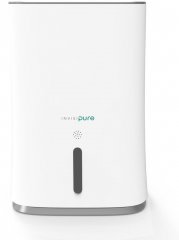 The InvisiPure HydroWave is a bathroom dehumidifier that's praised by many of its 167 reviewers for being small and quiet. Like most other dehumidifiers in this AlphaChooser list, it uses the Peltier dehumidification technology, which is probably why many buyers say that its operational noise is almost non-existent. In fact, the worst thing anyone said about its ambient noise as of this review is that it's a bit loud, but not as loud as your typical white noise machine . Many reviewers love its design as well, saying that it does not take up too much space, which is obviously what you want from something that's just gonna sit in the bathroom, and that it looks pretty sleek.
Apart from bathrooms, this InvisiPure model also apparently runs nicely in other small spaces, with one user having it operate inside a motor home that gets moldy during the winters. This 3.5-star model comes with a 4.2-pint water reservoir, which is pretty large, seeing that many tantamount units only store about 3-3.5 pints of water in their tanks. For those who hate emptying the water bucket, though, the Hydrowave is drain-hose-ready.
Most complaints about this dehumidifier (Its 12 percent ratio of 1-star ratings was well within the acceptable range at the time of writing) involve units that don't actually dehumidify. One particular buyer who had it running inside a basement said that it did not collect a drop of moisture, even though the carpet was evidently damp. Another user complained that it leaked water all over the floor the moment its water tank filled up, which suggests a failure of its auto-shutoff feature.
At the end of the day, our review-crawling algorithm, which, by the way, weaved its way through 3154 reviews for bathroom dehumidifiers, concludes that the compact InvisiPure HydroWave belongs to the top 7 dehumidifiers of its kind. In fact, it's an Alphachooser interesting choice.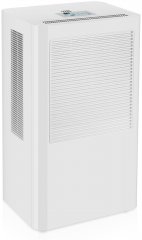 The Powilling MD821 is a bathroom dehumidifier equipped with one of the largest water reservoirs in this AlphaChooser category at the time of writing, in the form of a 6.3-pint (0.79 gallons) water tank -- many others in this list stick to 3.2- or 4.2-pint tanks. It comes with typical features you would look for in a bathroom unit, such as the thermo-electric Peltier module, which, as many of its reviewers put it, makes it extremely quiet, and an auto-shutoff feature that triggers whenever its water bucket fills up. It also comes with a top-mounted LED display and control panel. This (rating temporarily unavailable)-star unit's most defining feature, however, is the drain hose that Powilling throws in the package, which is not that usual of a perk among small and portable dehumidifiers.
Although it is mainly intended for bathrooms, users have their MD821 units running in a range of places, including damp laundry rooms or basements, garages, and RVs. A certain user even reported that it managed to bring the humidity level within their RV from an unbearable 80 percent down to only 31 percent . Also, many buyers praise it for eliminating molds and mildew within the room as well as for being relatively power-efficient, although small dehumidifiers for bathrooms often are.
The MD821 still has its share of negative reviews and they usually involve units that were broken from the get-go or ones that fail to collect even an inch of water in evidently moist rooms. One of them also complained about a MD821 unit that broke after only 3 weeks. Considering that only 13 percent of its total reviews were 1-star ones at the time of writing, however, those complaints don't sound like huge blows to the MD821.
So, after aggregating 3154 reviews for bathroom dehumidifiers across all our sources, our shopping algorithm concluded that the Powilling MD821 is a respectable drain-hose-equipped choice, although better bathroom units (in terms of review scores) can be found on this list.

Side Air Discharge

2 Fan Speeds

self-draining
More Bathroom dehumidifiers, sorted by the latest model first:

This page offers an ad-free experience, in exchange for "Check Price" and review links to lead to the stores you know, which pay us a commission that has no effect on your price. Items are chosen independently (regardless of price) by our computer review crawler and commented by human analysts. Read more about our
constantly-updating unique ranking system
You Should Also Check Out: