The 2 Best Gas Snow Blowers Under $500 September, 2021 (And 1 Other)
This list presenting the latest gas snow blowers under $500 includes only snow blowers that satisfy these specs:
Here, we target mostly single-stage cheaper snow blowers whose manufacturer suggested price is under USD$ 500. Customers in other countries will find snow blowers whose price is equivalent to 500 dollars U.S. after conversion. For example, Canadian snow blowers in this list should max in the area of $650.

Expect lower intake heights as these cheaper models are designed for areas with moderate snow falls

This list is for gas snow blower models only, since we have a special list for electric snow blowers and even cordless models (which are almost always under $500 anyway!)
The List:

Best Model 2021
Alpha
Rank:
#1
Our
Score:
8.6/10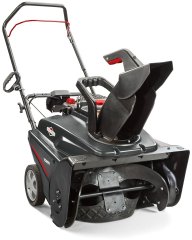 Even with a lower review count, considering its overall ranking of 86%, we determined that the Briggs & Stratton 1696715 is currently Alphachooser's best gas snow blower cheaper than $500 2021. We also believe that our 1593 reviews sampled from multiple sources give us a
high
confidence level (
more on confidence levels
) that allows us to call it a
"no-brainer best choice."



Second Best
Alpha
Rank:
#2
Our
Score:
6.2/10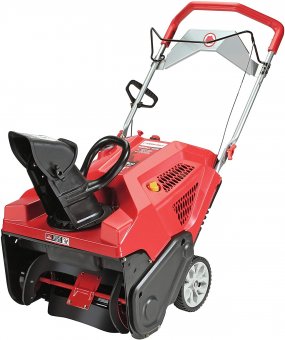 Because of star rating of 6 derived from 58 reviews, here is what we consider second best gas snow blower cheaper than $500. * Btw, our choices are based on an in-depth aggregation of hundreds of gas snow blower cheaper than $500 reviews from around the web.

Overhead Valve Engine

Electric Starter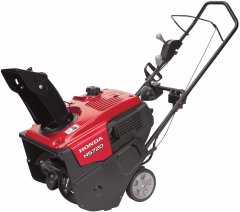 The HS720AS is a 20-inch single stage snow thrower powered by a Honda GC190 OHC engine rated with a clearing capacity of 1833.33 lbs per minute.

More gas snow blowers under $500, sorted by the latest model first:

This page offers an ad-free experience, in exchange for "Check Price" and review links to lead to the stores you know, which pay us a commission that has no effect on your price. Items are chosen independently (regardless of price) by our computer review crawler and commented by human analysts. Read more about our
constantly-updating unique ranking system
You Should Also Check Out: