The 4 Best Small Snow Blowers As Of July, 2020 (And 6 Others)
This category includes snow blowers with a narrower intake that ranges from 18 inches to 21. Smaller snow-blowers like these are still appropriate for most tasks, as long as they have a high-enough intake, but they are likely to move fewer pounds of snow per minute. This list includes only gas-powered models, most of which are single-stage, but there are some small dual-stage snow blowers as well. For electric models - most of which are small, see our list of Cordless electric snow blowers or our list of corded electric models.
The List:

Best Model 2020
Alpha
Rank:
#1
Our
Score:
3.7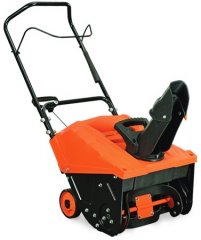 Even with a lower review count, considering its aggregate ranking of 73%, we determined that the Yardmax YB4628 is currently Alphachooser's best small snow blower 2020. We also believe that our 121 reviews sampled from multiple sources give us a
safe-enough
confidence level (
more on confidence levels
) that justifies to call it
the most interesting choice
as of now.


Intake width:
18 inches (by 11-in high)

Second Best
Alpha
Rank:
#2
Our
Score:
3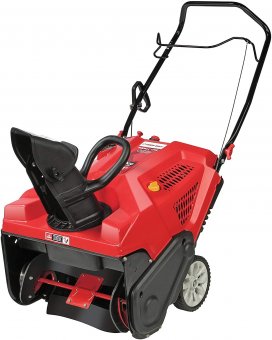 With its star rating of 3 computed from 50 reviews, here is what we consider second best small snow blower. * By the way, our list is based on an in-depth analysis of hundreds of small snow blower reviews from around the web.


More small snow blowers, sorted by the latest model first: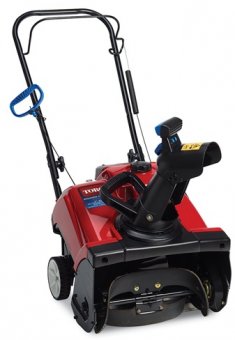 Intake width:
18 inches (by 12-in high)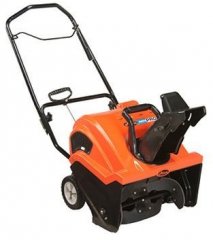 Intake width:
21 inches (by 12.2-in high)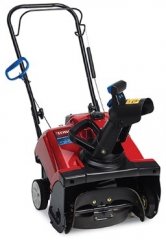 The Power Clear 518 ZR is a lightweight single-stage snow blower with an 18-inch clearing width and a small 99cc 4-cycle Toro Premium engine rated at a 25-foot throwing distance.


Intake width:
18 inches (by 9-in high)

Capacity:
1100 lbs/min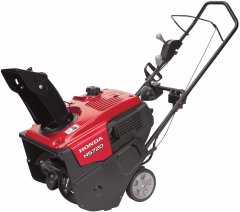 The HS720AS is a 20-inch single stage snow thrower powered by a Honda GC190 OHC engine rated with a clearing capacity of 1833.33 lbs per minute.


Capacity:
1833.33 lbs/min

This page offers an ad-free experience, in exchange for "Check Price" and review links to lead to the stores you know, which pay us a commission that has no effect on your price. Items are chosen independently (regardless of price) by our computer review crawler and commented by human analysts. Read more about our
constantly-updating unique ranking system
You Should Also Check Out: