Here Are The Top 10 Best Electric Snow Shovels As Of August, 2021
Electric snow shovels (this list includes hybrid and cordless snow shovels as well) are small hand held snow blowers generally designed for walkways, porches and decks. Some simply throw snow ahead of them while others feature basic directional chute adjustments - an important factor to consider if you plan to clear a longitudinal walkway.
Even if power snow shovel(')s intake heights are generally limited (typically around 6 to 13 inches), their lighweightness lets you use them handheld, just like a real shovel, to shovel down higher snow banks one layer at a time.
The List:

Best Model 2021
Alpha
Rank:
#1
Our
Score:
4.1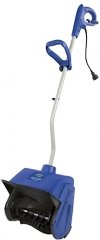 The Snow Joe Plus 323E is an electric snow shovel rigged with a 10-amp motor, which makes it one of the most-powerful units you will find in this category (Some of its contemporaries use roughly-8-amp motors only). Consequently, it promises to move up to 400lbs of snow per minute. It has a 13-inch intake width matched by a 6-inch intake height.
This hand-held electric shovel owes its 4-star average user rating to its ability for quick snow pickups on small areas, such as patios, sidewalks, and narrow driveways. A certain happy customer said that it did not bog down and that it threw the snow at a pretty good distance . Another user added that while it's not ready for big jobs, this Snow Joe snow shovel sounds perfect for dealing with areas where larger machines would otherwise be impractical.
On the flip side, like a few other electric snow shovels listed here on AlphaChooser, some of its buyers complained that it is only good enough for fresh, light snow -- a certain reviewer mentioned that its very hard to push around when dealing with even roughly 4 inches of mixed snow. Another complaint we picked up from the 4538 reviews that we sampled is that this unit is a tad too heavy, although its 13.8lbs (about 6.2 kilos) overall weight makes it sound lighter than a good number of competing snow shovels, some of which weigh in at around 15-20lbs. Furthermore, its plastic parts also took some flak for being quite flimsy, although this is an expected trade-off, as far as electric-powered snow shovels go.
To rehash, given the Snow Joe Plus 323E's mix of reviews, nearly half of which were perfect 5-star ratings when we were checking it out, and with the aid of our shopping algorithm, which aggregated 17448 reviews for electric snow shovels, we conclude that this model is Alphachooser's best electric snow shovel 2021 (Learn how we rank items), with a confidence level of 100 topping it off (More on confidence levels).


Second Best
Alpha
Rank:
#2
Our
Score:
4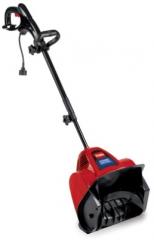 The Toro 38361 Power Shovel is a corded electric snow shovel designed to clear snow out of walkways, small yards, and sidewalks. This particular model comes with a 12-inch intake width and a 7.5-amp motor, but it is also offered alongside siblings that have 15-inch and 18-inch intake widths, with 12-amp and 15-amp motors respectively. It uses a 2-blade curved auger style and weights only 13lbs, putting it on the light side of the spectrum, at least as far as this AlphaChooser list is concerned -- a few other entries on this list weigh 20lbs.
Going over to the 5111 reviews we sampled for this hand-held power shovel, a couple of its users cautioned that its adjustable handle, which is held in place by no more than a little screw, might be a design flaw, since the screw ended up falling loose due to the vibration and rendered the shovel virtually useless. Another user groused about its forward-only blowing direction, which, according to him, could spell some trouble, unless you hate your neighbors. A couple of minor complaints talked about units the stopped working after just a couple of winter seasons.
As for the positive side of things, this 4-star unit was described by one happy buyer as perfect for dealing with snow that's less than 4 inches thick . On the other hand, some tried it out on a blizzard and enthusiastically reported that it helped them clear snow out of deck areas and walk areas with relative ease. Moreover, while having to drag a power cord around does not sound too convenient, its reviewers generally agree on the 38361 being a lightweight power shovel that works pretty well.
Summing up, after sending our review-crawling algorithm to scour 17448 reviews for electric snow shovels across our sources, we can safely say that the Toro 38361 is among the top 10 power shovels out there today, being Alphachooser's second best electric snow shovel 2021.

Alpha
Rank:
#3
Our
Score:
4.2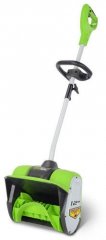 12-inch snow blower shovel with a 20-feet throwing distance and a capacity of 300 pounds of snow per minute.

Alpha
Rank:
#4
Our
Score:
4.1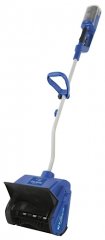 This one pushes the snow shovel concept a bit farther by getting rid of the power cord with its battery pack system similar to the one used by cordless power tools.

Alpha
Rank:
#6
Our
Score:
4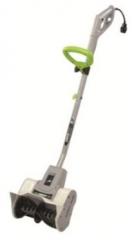 Very basic electric shovel with only 5 inches of intake height, but a claimed throwing distance of 25 feet.

Alpha
Rank:
#7
Our
Score:
3.9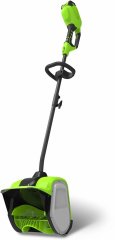 Alpha
Rank:
#8
Our
Score:
3.8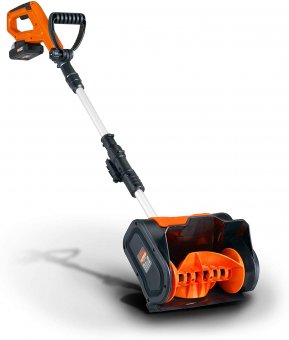 Alpha
Rank:
#9
Our
Score:
3.7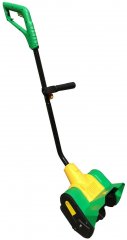 Alpha
Rank:
#10
Our
Score:
3.3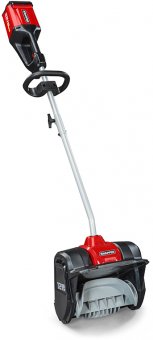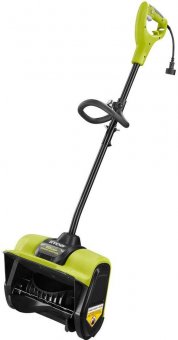 More electric snow shovels, sorted by the latest model first:



This page offers an ad-free experience, in exchange for "Check Price" and review links to lead to the stores you know, which pay us a commission that has no effect on your price. Items are chosen independently (regardless of price) by our computer review crawler and commented by human analysts. Read more about our
constantly-updating unique ranking system
You Should Also Check Out: