The 5 Best Clear Toasters As Of July, 2019 (And 2 Other Models)
Our list of the newest clear toasters includes only toasters that obey to these rules:
Our list include exclusively transparent clear toasters, with at least one side made of glass.
Most glass toasters are one-slot models, for obvious reasons if there are two transparent sides.
The List:

Best Model 2019
Alpha
Rank:
#1
Our
Score:
4

The 2-slice Magimix Vision glass side toaster banners its quartz heating element to attract customers (on top of the appeal brought by the see-through windows, of course). With 156 total customer reviews across multiple sources, it has managed to secure a rating of 4 stars.
This clear toaster apparently browns bread evenly. And according to one reviewer, it toasts bread at the perfect depth -- meaning it's able to achieve the right balance of browning on the outside and toasting on the inside. The transparent window obviously helps ensure that good toasting results are achieved. And with all these, it's not surprising why a bunch of people feel that this relatively-pricey toaster is ((Q))worth every penny((Q)) .
Moreover, this clear toaster apparently has some weight to it, too. So in spite of employing crank controls to adjust the browning settings, users don't encounter problems with this toaster moving around the counter. Since the glass panels are dual-layer, they reportedly also don't get hot to the touch.
Many people seem to agree that it isn't the fastest toaster out there, but they curiously didn't seem at all bothered by this fact. However, if you are the type to get worried about this, we recommend that you also take a look at the list of the best fast toasters on AlphaChooser. Other than that, the rest of the negative reviews (which weren't a lot compared to the positive ones, by the way) seem to be written by people who have unfortunately received lemons. Unless you're extremely unlucky, you'll probably be among the majority who got perfectly-working Magimix toasters.
As it stands, our automatic review aggregator has scoured through 1174 total reviews for the clear toaster subcategory and found that this one is Alphachooser's best transparent toaster 2019 (Learn how we rank items) with 98 confidence (More on confidence levels).

Stainless Steel

1.5in Or More Slots

Second Best
Alpha
Rank:
#2
Our
Score:
4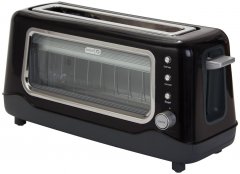 The 2-slice Dash View's transparent side window certainly looks like a very well-loved feature. People expressed satisfaction at how convenient the toasting process has become because of it. Aside from being able to tell exactly what is going on inside this long-slot toaster, buyers also generally agree that this particular model toasts quickly and evenly. As such, it's been easy for them to make toast ((Q))exactly how they want it((Q)) .
The fact that only the top part of the toaster (near the slot opening) gets hot is another plus, as this means that even the transparent window stays cool to the touch. Meanwhile, the slots are also reportedly long and wide enough for bagels and thicker types of bread, and this versatility has also been another feature that has drawn in customers. Finally, the presence of a cancel button, which lets users stop the toasting process at the perfect moment (which you can determine through the clear window, of course), and the bagel option that only toasts one side, seem to have taken this Dash toaster to great lengths.
As for potential drawbacks, this transparent long slot toaster can reportedly tend to eject toast with too much force. As such, to prevent your toast from landing onto unwanted places, reviewers have suggested placing the said toaster as far from the edge of the countertop as possible and placing a plate right beside it. Knowing this, it's a good thing that many consumers have noted that this clear toaster does not take up too much counter space.
This 4-star clear toaster's 705 reviews have been so generally-impressive that the AlphaChooser automated review aggregator has deemed it deserving of being Alphachooser's second best transparent toaster 2019 on this top 5 list.

Alpha
Rank:
#3
Our
Score:
3.5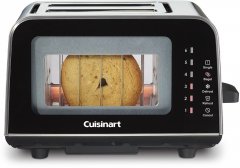 People evidently love the Cuisinart CPT-3000's transparent window as it helps them ensure that they're always going to get the right level of browning (because what better way to start the day than with perfectly-toasted bread, right?). The relatively-uncommon quartz heating element has also been praised a lot by reviewers, as it has reportedly improved the quality of their breakfasts. For the uninitiated, toasters that use quartz as opposed to the conventional metal wire reportedly produce bread that is toasted on the outside but still moist on the inside, due mainly to the heating element that is able to deliver a much hotter environment at a shorter period of time. This should theoretically help avoid ending up with dried-out bread. And if we take the word of dozens of happy reviewers, this clear toaster exactly does just that.
The not-so-conventional design has also been described by users as ((Q))cool((Q)) and ((Q))attractive,((Q)) while still sticking to a stainless steel build. This transparent toaster also sports a touch control panel, which lends it a fancy vibe while making operating it easier for users. Lastly, the presence of a single-slice function has been another heavily-praised spec.
On the other hand, some less-than-stellar reviews have said that crumbs tend to get trapped on the glass panel. Fortunately, the glass window was made removable, and thus easy to clean. Another con we've encountered is the fact that this toaster reverts to a browning setting of 4 after every use -- not entirely related to performance, but something that Cuisinart can definitely take into consideration for future installments.
This Cuisinart glass-sided toaster certainly appears to have the looks and abilities that a highly-successful toaster should have, judging from its 138 total reviews that have resulted to a combined rating of 3.5 stars. This impeccable reputation has earned it the spot of an Alphachooser good choice.

Alpha
Rank:
#4
Our
Score:
3

It lets you remove the internal part of the double window to clean it up

Cool-touch Housing

Leverless Motorized
Alpha
Rank:
#5
Our
Score:
2.5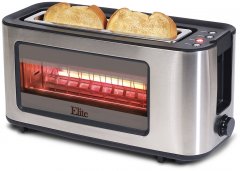 It lets you remove the internal part of the double window to clean it up

Top controls

Stainless Steel

1.5in Or More Slots

Illuminated Buttons

Slide-out Crumbtray
It lets you remove the internal part of the double window to clean it up

Cool-touch Housing

Leverless Motorized
More clear toasters, sorted by the latest model first: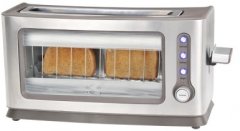 It lets you remove the internal part of the double window to clean it up

Stainless Steel

1.5in Or More Slots

This page offers an ad-free experience, in exchange for "Check Price" and review links to lead to the stores you know, which pay us a commission that has no effect on your price. Items are chosen independently (regardless of price) by our computer review crawler and commented by human analysts. Read more about our
constantly-updating unique ranking system
You Should Also Check Out: