The 6 Best Motorized Leverless Toasters As Of August, 2020 (And 1 Other)
Our list of the latest motorized leverless toasters includes only toasters that satisfy these specifications:
Leverless toasters are generally motorized and include digital buttons as well as a digital display (typically blue LCD displays), sparing you the lever-lowering routine

Some leverless models included in this list even do away with the button and simply lower your toast as soon as you drop it in the slot
The List:

Best Model 2020
Alpha
Rank:
#1
Our
Score:
4.4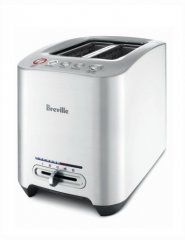 Considering this toaster's aggregate ranking of 88%, we are confident that the Breville BTA820XL is, as of now, Alphachooser's best leverless toaster 2020. Furthermore, we think that our 3847 reviews sampled across multiple sources give us a
high
confidence level (
more on confidence levels
) that pushes us to label it a
"no-brainer best choice."

Top controls

LED Display

Leverless Motorized

Slide-out Crumbtray

Independent Controls


Second Best
Alpha
Rank:
#2
Our
Score:
4.5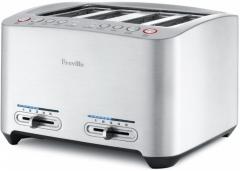 The Breville BTA840XL is a high-end motorized leverless toaster that is currently rated 4.5 stars from the 2647 reviews collected and scanned by our system. We scoured through its customer feedback and found that it's very much complimented for its handsome design, which also feels heavy and solidly-made, according to many of its buyers. In addition, this 4-slice model has gained quite a number of fans for having easy-to-use controls which were "a breeze to operate."
As for toasting ability itself, this model spews out bread at a rating of 450 watts per slice, which seems respectable given the amount of positive reviews it garnered in this particular department. Many customers seem to have loved the relatively-wide heating range and the presence of options like "defrost" and a cancel button. Although we have also read frustrated reports of it toasting one side of the bread more than the other (something that Breville calls "restaurant-style" toasting), a bigger number of people have expressed delight over how the BTA840XL delivers nicely-browned toast in a quick and efficient manner. Perhaps the most note-worthy criticism we've seen about this motorized toaster is that it's not as accommodating for longer types of bread. But if this is a major issue for you, specialized long-slot toasters (see our list) are always an option.
Due to the sheer volume of the BTA840XL's favorable reviews, our system has determined that it is Alphachooser's second best leverless toaster 2020.

Fast 1800 Watts

Leverless Motorized

Independent Controls
Alpha
Rank:
#3
Our
Score:
4.2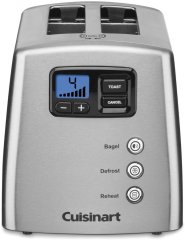 For many people who bought the 4-star Cuisinart CPT-420, the speed with which the said motorized leverless toaster does its job is a pleasant surprise. It has also received plenty of praise for producing even toasting results -- at least for many of the usual types of bread, like white bread, bagels, and sourdough (Apparently, English muffins are a bit harder to properly toast in this particular model). The thing is quite pleasing to the eyes, as many people have concurred, but there were some reviewers who've pointed out that the stainless steel exterior can be vulnerable to showing fingerprints. Nonetheless, many agree that it's a toaster that feels solidly-made and sturdy.
Talking more about convenience, the CPT-420's digital display, which indicates the toasting progress, proved to be one of the biggest pros for its buyers. The alarm that signifies the end of the cycle has also been generally-regarded as sufficiently-audible and pleasant to the ears. In addition, the cord manager is a feature that has been very well-received.
As for the reviews from less-than-satisfied customers, we see a number of people complaining that the electrical cord is "too short." Also, people seem to be expecting that for the Cuisinart CPT-420's price, they would be able to enjoy a motorized toaster with a cool-touch exterior. This model doesn't come with this feature, however -- and added to the fact that it doesn't have any handles, people find it difficult to move this toaster around or adjust its position while it's being used.
Examining the entirety of its reviews, it's obvious that the Cuisinart CPT-420 has garnered far more positive feedback than negative ones, which makes it deserving of being regarded as an Alphachooser good choice.

Stainless Steel

Leverless Motorized

1.5in Or More Slots

Slide-out Crumbtray
Alpha
Rank:
#4
Our
Score:
4.3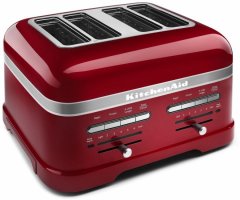 This KitchenAid Pro Line 4-Slice toaster has an impressive amount of glowing reviews. Although it doesn't completely escape having unsatisfied customers here and there, its 4.5-star rating across 151 reviews should give you an idea of how this motorized leverless toaster has been generally received by the public.
First addressing the physical, this toaster has noticeably banked a lot on its looks to attract consumers. The modern design is reportedly accompanied by an imposing and heavy body, which has helped enhance its premium feel -- but may also explain its generally hefty price. Many customers have also raved about the convenience brought by having separate controls which, when added to the leverless mechanism, apparently makes this toaster easy-breezy to operate -- though most 4-slice toasters have separate controls anyway.
As for performance, a lot of reviewers have said that it makes toasts "just the way they want it" -- owing probably to the features (like A little longer and auto keep-warm) that supplement the seven browning settings that it offers. Furthermore, it reportedly does its job "super fast," but we've also encountered reviews (although far smaller in number) that say otherwise. Its hefty price tag may be an issue for a lot of consumers, but its satisfied buyers say that it's worth every penny -- with one even calling it "the Cadillac of toasters."
On the other hand, some people have noted that its slots are smaller than what they expected. This remains subjective, of course, but the 1.12-inch width reported by KitchenAid is, indeed, a tad smaller than the 1.5in width we are used to seeing in many toasters. Lastly, there were some who wrote that the auto keep-warm feature tends to dry out some types of bread, so there's that.
At the end of the day, the KMT4203 has managed to earn an imposing number of very happy customers. This is why upon going through a total of 20231 reviews for all the models in this subcategory, this particular toaster ended up securing the spot of an Alphachooser good choice.

Leverless Motorized

Independent Controls
Alpha
Rank:
#5
Our
Score:
3.7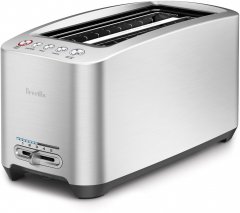 At this moment, this motorized leverless toaster has earned a 3.5-star rating from 2869 reviews. We've scanned through its reviews and found that it has a lot of positive feedback about its ability to heat and toast many types of bread evenly. A lot of Breville BTA830XL users raved about the consistency with which this toaster does it job, once these said users have figured out the best settings to use based on personal preference -- and it appears like doing so wouldn't be too difficult, since consumers have also reported that this particular model is very user-friendly and smooth to operate.
With that said, we have encountered a few reviews saying that an even color isn't as easy to achieve with extra-long pieces of bread, as they tend to be more toasted on one end. There were people who've also expressed dissatisfaction with how "sensitive" the browning controls were -- saying that the jump in browning between consecutive settings were too big.
Take note that these not-so-positive reviews were relatively-few compared to the good ones. Aside from the commonly-mentioned good points discussed above, many consumers have also said that they were happy with how easy it is to clean this toaster. The cord manager built into the 4-slice BTA830XL didn't go unappreciated, as well.
With all these aforementioned pros, and with the fact that this motorized toaster's aesthetic quality seems to be universally-appealing, we don't doubt how it's now named as an Alphachooser good choice.

Alpha
Rank:
#6
Our
Score:
3.1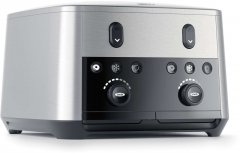 Stainless Steel

Leverless Motorized

Independent Controls

Cool-touch Housing

Leverless Motorized
More motorized leverless toasters, sorted by the latest model first:

This page offers an ad-free experience, in exchange for "Check Price" and review links to lead to the stores you know, which pay us a commission that has no effect on your price. Items are chosen independently (regardless of price) by our computer review crawler and commented by human analysts. Read more about our
constantly-updating unique ranking system
You Should Also Check Out: