The 3 Best Conveyor Toasters May, 2021 (And 7 Other Models)
Our list of the newest conveyor toasters includes only toasters that obey to these rules:
Conveyor toaster usually toast by belt speed rather than heater intensity, or a combination of both

Some conveyor toasters can toast bagels by adjusting the browning level of both top and bottom elements

Other models are designed specifically for buns.
The List:

Best Model 2021
Alpha
Rank:
#1
Our
Score:
4.6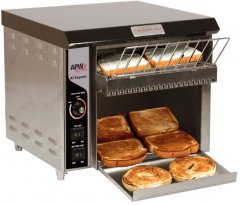 Despite a small sample of reviews, given this conveyor toaster's compound rank of 92%, we believe that the APW Wyott AT Express Radiant Conveyor is currently Alphachooser's best conveyor toaster 2021. Furthermore, we think that our sample of 37 reviews across multiple sources gives us a
safe-enough
confidence level (
more on confidence levels
) that justifies labelling it
the most interesting choice
as of now.

Cool-touch Housing

Stainless Steel

Second Best
Alpha
Rank:
#2
Our
Score:
3.5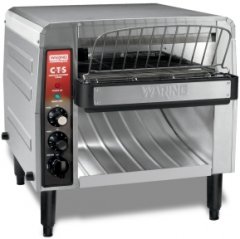 The 3.5-star Waring Commercial CTS1000B Heavy-Duty Conveyor Toaster boasts being able to bust out 1000 slices of bread per hour. Reviewers who are usually restaurant-owners seem to be satisfied with how quick and efficient this toaster operates, but they also pointed out other pros.
For one, the opening on this restaurant grade toaster has been described to be of good size. Apart from that, it's reportedly easy to achieve an even level of browning, and the controls are apparently easy to operate and the settings simple to adjust. At 2700 watts (or 1350 watts per slice), it's not a surprise that consumers generally agree that this toaster is more then powerful enough for their commercial needs. On top of that, its heavy-duty brushed stainless steel finish appeals to customers and gives the impression of a well-built and solid toaster.
While it's generally-regarded as a relatively-affordable conveyor toaster, it does require a 208-volt line, which can cost extra bucks to install. Another potential setback that we've encountered is that this Waring toaster apparently takes some getting used to in terms of figuring out the perfect settings for each specific type of bread. One or two reviewers even reported ending up with utterly-burnt bread during the first few trials . Note, however, that with each product comes with it an adjustment stage. Fortunately, it appears as if this conveyor commercial toaster can produce consistent results once this said hurdle has been conquered.
From its 38 reviews, it's obvious that this restaurant toaster has earned the approval of many customers. As such, our review crawler has determined it to be Alphachooser's second best conveyor toaster 2021 on this ranking of the top 3 conveyor restaurant toasters on AlphaChooser.

Cool-touch Housing

Stainless Steel

Also Good
Alpha
Rank:
#3
Our
Score:
3.3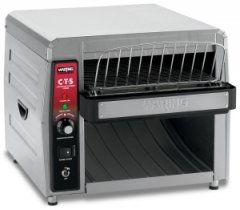 Cool-touch Housing

Fast 1800 Watts

Stainless Steel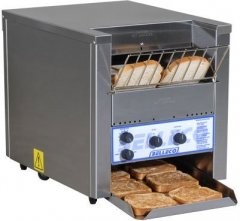 Belleco JT2H Commercial Conveyor Toaster
Cool-touch Housing

Stainless Steel

1.5in Or More Slots
More conveyor toasters, sorted by the latest model first: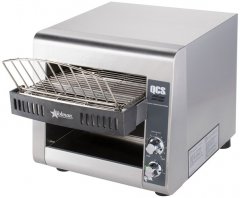 Cool-touch Housing

Stainless Steel

Slide-out Crumbtray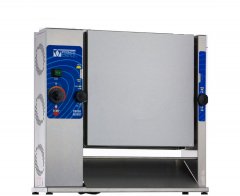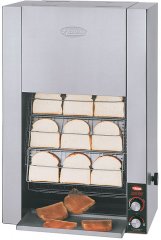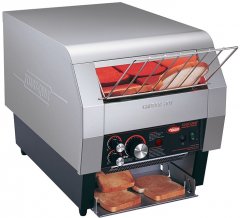 Top controls

Fast 1800 Watts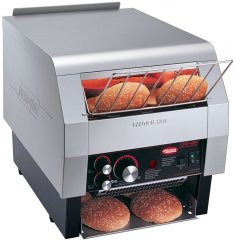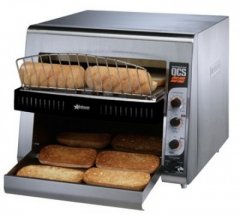 Cool-touch Housing

Stainless Steel

1.5in Or More Slots

This page offers an ad-free experience, in exchange for "Check Price" and review links to lead to the stores you know, which pay us a commission that has no effect on your price. Items are chosen independently (regardless of price) by our computer review crawler and commented by human analysts. Read more about our
constantly-updating unique ranking system
You Should Also Check Out: