The 2 Best Commercial Toasters October, 2021 (And 6 Other Models)
This list presenting the latest Commercial toasters includes only toasters that satisfy these specs:
High-wattage for speed and heavy-duty constructions are the main criteria for our best commercial toaster list

Having a high Slices per hour rating is also a key ingredient for commercial toasters to make it to our list, as they are meant for use in restaurants where output means something.
The List:

Best Model 2021
Alpha
Rank:
#1
Our
Score:
9.6/10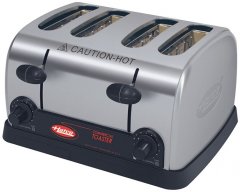 Despite a lower review sample, taking into account its average ranking of 96%, we conclude that the Hatco TPT-120 is, as of now, Alphachooser's best Commercial toaster 2021. Alphachooser also concludes that our sample of 52 reviews across multiple sources gives us a
safe-enough
confidence level (
more on confidence levels
) that justifies calling it
the most interesting choice
as of now.

Fast 1800 Watts

Stainless Steel


Second Best
Alpha
Rank:
#2
Our
Score:
8.1/10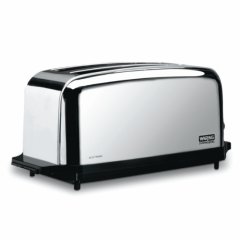 This commercial grade toaster from Waring has received 4 stars from 218 customer reviews. Many people seem to love it for its long and "extra-wide" slots, which apparently take in all sorts of bread -- including buns, bagels, and French bread -- without a problem. The crumb tray is reportedly very easy to slide out and clean up, too.
The chrome finish has earned quite a lot of oohs and ahhs, as well. It gives the toaster a heavy-duty look, which is a very welcome addition to its "solidly-built construction." At a rating of 1800 watts (or 450 watts per slice), it's not surprising to see customers saying that the WCT704 "outperformed" all of their previous toasters . To add to these performance-themed reviews, this toaster has also been praised for its browning consistency and for the simplicity of its controls.
On the other hand, we've encountered reports saying that this model hums while it works. Now, this can either be an annoyance to a chef who's trying to focus, or a downright insignificant sound that's going to be drowned out in a busy kitchen, anyway -- your call, really. It appears like this model is a successor to an old but well-loved Cuisinart toaster (both Cuisinart and Waring are part of the Conair coroporation), and users of this older version mentioned missing the slot selection switch that has apparently been dropped in the newer outing. But if you're drawn to having a slot selection switch because you don't usually occupy four slots, this model has a 2-slice version that may be more suitable for you.
It's clear that this restaurant toaster is a cut above the rest of its competitors here on AlphaChooser, so we found it fitting to rank it as Alphachooser's second best Commercial toaster 2021 in this top 2 list.

More Commercial toasters, sorted by the latest model first: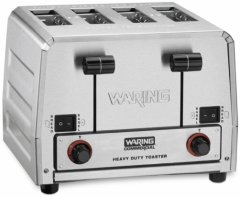 Stainless Steel

1.5in Or More Slots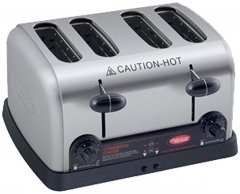 Stainless Steel

Independent Controls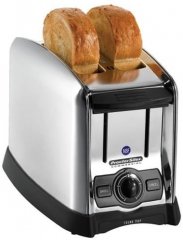 N

1.5in Or More Slots

Slide-out Crumbtray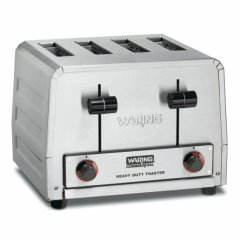 Stainless Steel

1.5in Or More Slots

Independent Controls
The (rating temporarily unavailable)-star Waring WCT800, which can apparently toast 300 slices per hour, has quite a number of customers who have gushed about its durability. Especially in restaurant settings, toasters can be subject to a lot of stress -- but this model can apparently withstand rough use better than other similar products. In fact, one reviewer even went as far as mentioning that he already "felt the quality" just by laying his eyes on this stainless steel-finished appliance . Naturally, this solid-feeling unit comes with some weight and bulk, which may not be everyone's cup of tea.
The defrost option has been mentioned a lot for being dependable, but the lack of a specialized bagel button (which appears to be more prevalent in the AlphaChooser best motorized toasters list, by the way) puts this toaster at a disadvantage, even if there are other Waring models that support bagels (Look at other contenders on this page). However, reviewers have pointed out that due to this commercial toaster's consistency, you really only need to figure out your preferred setting for virtually any type of bread -- and that setting will give way to the same desired results each time. Lastly, we also noticed many consumers praising the WCT800 for not only its speed, but also its ability to churn out a large volume of bread (the official rating is 300 slices per hour) without excessively heating the surroundings.
A small number of customer reviews have said that crumbs tend to escape from the tray -- and unwarranted mess can understandably be a major annoyance in hectic commercial kitchens. Aside from that, however, the rest of the not-so-favorable reviews seem to be cases of people who have encountered lemons, as these feedback say the exact opposite of the good points discussed above -- but with these reviews being significantly fewer in number.
.

Stainless Steel

Slide-out Crumbtray

Independent Controls

This page offers an ad-free experience, in exchange for "Check Price" and review links to lead to the stores you know, which pay us a commission that has no effect on your price. Items are chosen independently (regardless of price) by our computer review crawler and commented by human analysts. Read more about our
constantly-updating unique ranking system
You Should Also Check Out: