Compare the Latest 9 Tresanti Wine Coolers 2023
Here are the latest Tresanti wine coolers in increasing order (To compare any of the 9 models, just click their Add to compare button):


Advertising disclosure

The Nine Latest Tresanti Wine Refrigerator Furniture Cabinets (as Of September, 2023)

A contemporary-looking 18-bottle dual-zone wine cooler with a top cabinet, a pull-out granite work surface, and an extra drawer.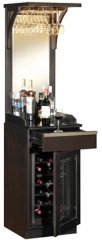 An 18-bottle dual-zone thermoelectric wine refrigerator with bar counter features like the drawer-type work surface, glass countertop, and stemware rack.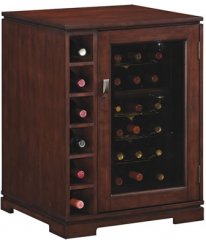 A contemporary furniture-type wine cabinet and cooler with a 12-bottle lower zone, a 6-bottle upper zone, and an extra 6-bottle side storage, featuring a thermoelectric technology developed by Tresanti to be quiet and vibration-free.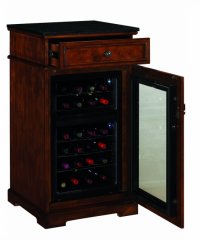 A 24-bottle wine cabinet equipped with the thermoelectric cooling technology (which Tresanti boasts as whisper-quiet) and two temperature zones.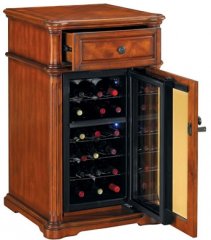 An 18-bottle dual-zone furniture-style wine cooler that sports a different look with its fluted column corners and features a sliding work surface covering the drawer.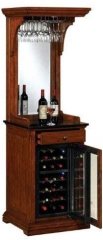 A 24-bottle dual-zone furniture wine refrigerator with a rare feature: a granite work top, mirror, and stemware rack.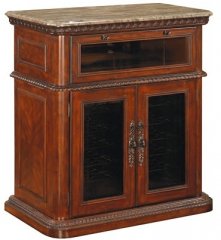 A 36-bottle thermoelectric wine cabinet that can cool down to 20F less than the room temperature and conceals a rather unique mirrored stemware rack area.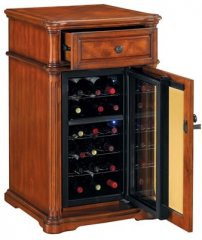 An 18-bottle thermoelectric dual-zone cooling unit that has been designed to look like a normal furniture.
You Should Also Check Out: