The 4 Best Mini Wine Fridges As Of May, 2020 (And 4 Other Models)
Not all kitchens accommodate large wine refrigerators, and many of us just want to store and display a handful of our best wines for special guests or family dinners, right? In that case, a mini wine fridge that typically holds 4 to 8 wine bottles atop a small counter space might be the way to go.
Mostly trading off the niceties of larger models -- like too different cooling zones, luscious wood shelves or security locks, mini wine coolers are small-enough to fit limited kitchen spaces and corners. Here are several of the latest counter-top models, mostly storing bottles in a single temperature zone. Some of these mini wine coolers are even able to dispense per-glass servings while others can be affixed under a cupboard. They are also among the cheapest models we have found.
Almost all mini fridges listed here are freestanding models and have space for less than 9 bottles (typically 4 or 8, but some models hold 6 bottles).
The List:

Best Model 2020
Alpha
Rank:
#1
Our
Score:
4.4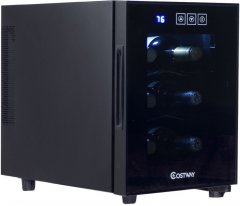 Despite a small sample of reviews, given this mini wine fridge's compound rank of 87%, we believe that the Costway Thermoelectric HW54591 is currently Alphachooser's best mini wine fridge 2020. Furthermore, we think that our sample of 96 reviews from our sources gives us a
safe-enough
confidence level (
more on confidence levels
) that justifies labelling it
the most interesting choice
as of now.



Second Best
Alpha
Rank:
#2
Our
Score:
4.3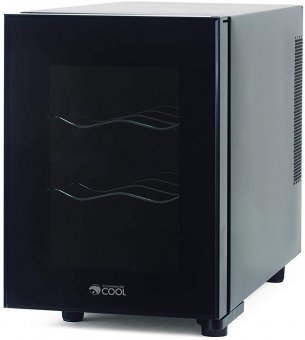 With its 4.5 stars averaged from 72 reviews, we rank this Commercial Cool model second best mini wine fridge. * By the way, this list is based on a full analysis of hundreds of mini wine fridge reviews from multiple sources.


Also Good
Alpha
Rank:
#4
Our
Score:
3.4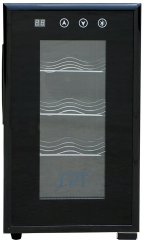 More mini wine fridges, sorted by the latest model first:

This page offers an ad-free experience, in exchange for "Check Price" and review links to lead to the stores you know, which pay us a commission that has no effect on your price. Items are chosen independently (regardless of price) by our computer review crawler and commented by human analysts. Read more about our
constantly-updating unique ranking system
You Should Also Check Out: