The 7 Best Slimline Wine Coolers As Of August, 2019 (And 4 Other Models)
Our list of the newest slimline wine coolers includes only wine coolers that obey to these rules:
To make it to our list of slimline wine coolers, refrigerators must be no wider than 12 inches, which means most have shelves that can only contain one or two wine bottles.
They must also obey a minimum height of 27 inches, so most narrow wine coolers shown here are at least under-counter height or taller.
The List:

Best Model 2019
Alpha
Rank:
#1
Our
Score:
4


Based on this slimline wine cooler's aggregated ranking of 84%, we believe that the Kalamera KRC-18SZB is currently Alphachooser's best slimline wine cooler 2019. Furthermore, we think that our sample of 86 reviews from our sources gives us a
high
confidence level (
more on confidence levels
) that pushes us to call it a
"no-brainer best choice."



Second Best
Alpha
Rank:
#2
Our
Score:
4


Based on 4 stars averaged over 213 reviews, here is what we consider second best slimline wine cooler. * These choices are based on a full computation of hundreds of slimline wine cooler reviews from around the web.

Alpha
Rank:
#6
Our
Score:
3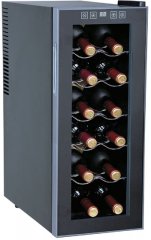 Alpha
Rank:
#7
Our
Score:
2.5





More slimline wine coolers, sorted by the latest model first:



This page offers an ad-free experience, in exchange for "Check Price" and review links to lead to the stores you know, which pay us a commission that has no effect on your price. Items are chosen independently (regardless of price) by our computer review crawler and commented by human analysts. Read more about our
constantly-updating unique ranking system
You Should Also Check Out: