The 5 Best Semi-integrated Dishwashers September, 2021 (And 2 Other Models)
Alphachooser's list showing the newest semi-integrated dishwashers includes only dishwashers that obey to these criteria:
Semi-integrated dishwashers are essentially classic models, those with visible controls, typically at the top of the front panel

Therefore, this list excludes most panel-ready models (but we have a list for them) and fully-integrated models

18-inch semi-integrated dishwashers also exist, but since most of them are semi-integrated anyway, please see our list of 18-inch dishwashers
The List:

Best Model 2021
Alpha
Rank:
#1
Our
Score:
8.7/10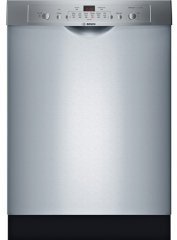 Given its compound ranking of 87%, we conclude that the Bosch SHE3AR75UC is currently Alphachooser's best semi-integrated dishwasher 2021. Alphachooser also concludes that our sample of 7114 reviews from multiple sources gives us a
high
confidence level (
more on confidence levels
) that justifies calling it a
"no-brainer best choice."

Stainless Version Available

Available In Black

Also In White

Second Best
Alpha
Rank:
#2
Our
Score:
8.6/10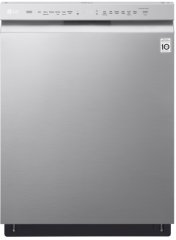 The LDF5545ST is a stainless-steel semi-integrated dishwasher that can download additional wash cycles via the NFC Tag-On smartphone app and bets on 15 place settings, four multi-motion wash arms, a Vario Wash feature, and a rather-common 48-dBA noise rating.

Stainless Steel Tub

Stainless Version Available
Alpha
Rank:
#3
Our
Score:
9.6/10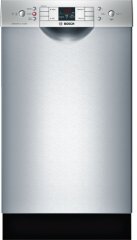 The SPE53U55UC is a stainless-steel semi-integrated dishwasher that embraces a rather-silent (for an 18-incher) 46-dBA noise rating and carries nine place settings, a stainless-steel tub, and a prolonged-drying feature, which they call ExtraShine.

Stainless Steel Tub

Stainless Version Available

Also In White

Alpha
Rank:
#4
Our
Score:
7.8/10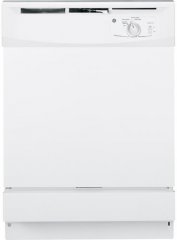 The GE GSD2100VWW uses a mechanical knob dial and a rocker switch, which seems to remind us of old-fashioned dishwasher controls.

Available In Black

Also In White
Alpha
Rank:
#5
Our
Score:
7.3/10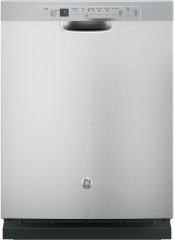 Considering that the 3.5-star-rated GE GDF650SSJSS has a quieter-than-average 46dB noise rating, it's to no one's surprise that many among the 71 reviews of this model that our crawler system has analyzed are raving about its relatively-silent operation. More than that, a good number of its buyers also claim that it cleans dishes excellently, without them having to perform a pre-rinse. This quiet semi-integrated dishwasher also appears to have more reviews praising its drying capability than what we're usually used to reading.
You can't please everyone, as the saying goes -- and this model is no exception. It has been criticized for its longer cycle times (as the shortest cycle is at 55 minutes, whereas many other dishwashers offer 45-minute programs). Further, some reviewers were bothered by its alleged "cheap-feeling" construction and "flimsy" racks and silverware basket. However, while reviews that say these things make up most of its low ratings, there's barely any reported incidents of an actual material breakdown.
Besides, it looks like the GE GDF650SSJSS worked hard to counterbalance these potential negatives by nailing its design (described by many as attractive and sleek) and including a bottle-washer feature that's also well-appreciated by many of its consumers. Seeing this, this quiet dishwasher may have just proven itself worthy of the honor of being an Alphachooser good choice.

Stainless Steel Tub

Stainless Version Available

Available In Black

Also In White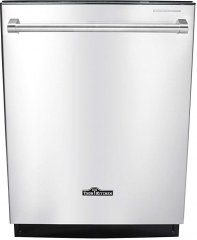 The Thor Kitchen HDW2401SS dishwasher sports specs such as an adequately-competitive 45dBA noise rating, a multiple filter system, and a so-called Smart Wash feature, which determines the best cycle to use based on the soil level.

More semi-integrated dishwashers, sorted by the latest model first: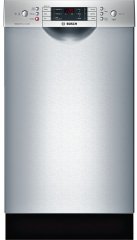 The SPE68U55UC is a high-tier semi-integrated dishwasher with the leak-detecting 24/7 AquaStop feature, the Rackmatic rack system, a new 3rd rack version described as offering 30% more space, and a low 44-decibel rating.

Stainless Steel Tub

Stainless Version Available

This page offers an ad-free experience, in exchange for "Check Price" and review links to lead to the stores you know, which pay us a commission that has no effect on your price. Items are chosen independently (regardless of price) by our computer review crawler and commented by human analysts. Read more about our
constantly-updating unique ranking system
You Should Also Check Out: