Compare the Latest 10 Danby Dishwashers 2022
List of the latest Danby dishwashers in the order in which they were added to our database (To compare any of the 10 models, just click their Add to compare button):


The Two Latest Danby Portable Dishwashers (as Of January, 2022)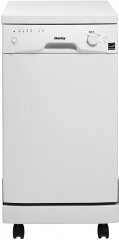 The Danby DDW1801MWP has the makings of an ordinary portable dishwasher with its eight place settings, a stainless-steel tub, a built-in water softener, and a somewhat-conspicuous-looking dial selector knob, but it, at least, presents six wash programs to choose from.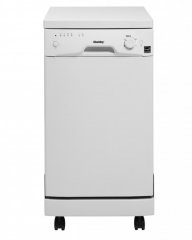 Thanks to its built-in water softener, the Danby DDW1899WP-1 portable dishwasher looks able to work even with hard water conditions -- but we are not sure if its plastic finish will keep up with being moved around a kitchen.
Three Recent Countertop Danby Dishwasher Models

The 203 kWh/year Danby DDW631SDB poses as a compact dishwasher designed for small households, evidenced by specs like six place settings, a 17.24-inch height, and seven rather-standard cycle options -- namely, eco, normal, soak, glass, heavy, rapid, and rinse.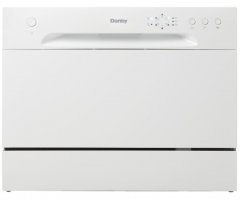 Its 45-minute quick-wash cycle is not necessarily lighting-fast, and the 52-dBA-rated Danby DDW621WDB dishwasher gets involved in a basic-specked conversation, which consists of six place settings, a stainless-steel tub, and six wash programs.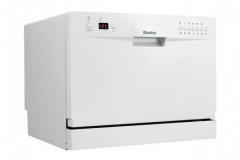 The Danby DDW611WLED countertop dishwasher's plastic-finish and lack of a dB-rating look to be positively countered by its claimed 12-liter water usage rate and LED display.
Four Danby 18-inch Dishwashers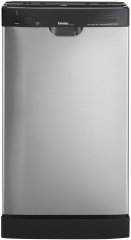 The Danby DDW1802EBLS dishwasher waves around its seven wash cycles to draw some applause, but it soon takes a seat among other basic 18-inchers, bearing already-seen specs, such as eight place settings, a three-stage filter, and a basket for holding silverware.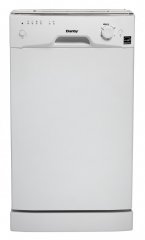 Given a less-than-sleek-looking dial knob for selecting its wash programs, the Danby DDW1801MW dishwasher fits itself into a regular-specked shelf space, keeping itself busy with a silverware basket, a three-way filter, and six wash cycles.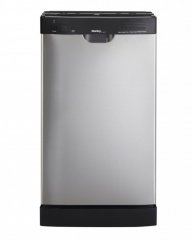 This Danby 18-inch DDW1899BLS-1 dishwasher attempts a (")Designer(") look with its compact size and stainless finish, but without a dB sound rating, we cannot evaluate whether this small dishwasher also makes a small noise... or not.

This Danby DDW1809W-1 dishwasher's 18-inch width and stainless steel interior may have their advantages if you can appreciate its plastic finish and lack of a sound rating.
Other models...
You Should Also Check Out: