The 6 Best 18-inch Dishwashers July, 2019 (And 2 Others)
This list made of the latest 18-inch dishwashers includes only dishwashers that satisfy these specs:
18-Inch dishwashers are, for the vast majority, built-in models, but compact-enough for small kitchens
The narrow range we require to consider a model as an 18-inch dishwasher is between 17.5 and 18.5 inches
Expect a feature set slightly less impressive for these small dishwashers than on full-fledged units, but some 18-inch stainless-steel dishwashers still manage to have fitted many of the latest perks and scrubbing technologies associated with wider models. There are also a few portable (with casters) and panel-ready models in the 18-inch-wide category.
18-inch dishwashers are the norm for any narrow or slimline models and may not be the quietest (given their smaller size), but we included decibel ratings when available, so you can choose wisely if noise levels are a concern.
The List:

Best Model 2019
Alpha
Rank:
#1
Our
Score:
4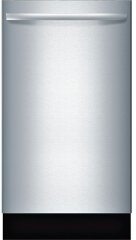 Scanning through some of the Bosch SPX68U55UC's 63 total reviews, a lot of people appear to have been pleasantly surprised by how well it accommodates a variety of dish shapes and sizes, considering that it is, after all, an 18-inch built-in dishwasher with only 10 place settings (as opposed to the 14 place settings usually found on standard-size models). It has also been praised quite a lot for its cleaning ability, with some buyers even describing their dishes as ((Q))sparkling clean((Q)) right after being washed in this said unit.
However, what seems to set it apart from many others in this top 6 list of 18-inch models is the overwhelming positive feedback about it being a quiet dishwasher. Not a few reviews contain remarks about the SPX68U55UC being so quiet that their owners had to rely on the InfoLight feature (which indicates if a cycle is ongoing) to make sure that the unit was indeed running. Such a claim may potentially be too good to be true, but picture this: many 18-inch dishwashers in our database have already been praised for their quietness at a noise rating of around 55dB. This Bosch model, meanwhile, boasts a significantly-lower 44dB max noise level.
Perhaps the most common complaint about this dishwasher concerns its olfactory appeal. There have been complaints about it having an ((Q))overwhelming((Q)) bad odor, especially during the first several uses. It also doesn't dry dishes excellently, but this is a complaint we see a lot across dishwashers in general.
In the end, the SPX68U55UC has earned a 4-star rating. This just shows that it is really a strong contender if you're looking for a quiet 18 inch dishwasher, seeing that it's the best model in this specific subcategory (Learn how we rank items) with a confidence level of 97 (More on confidence levels).


Second Best
Alpha
Rank:
#2
Our
Score:
4.5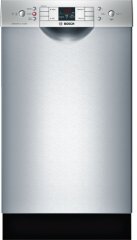 As an 18-inch dishwasher for smaller spaces, the Bosch SPE53U55UC is apparently very easy to install, according to some of its 26 total reviews. This 4.5-star model has also been tagged as a very quiet dishwasher, in spite of its smaller body (which is usually prone to having sized-down sound insulation). People also say that its controls are very easy to use, and that it cleans even ((Q))baked-on and burnt glass pans((Q)) effectively -- producing thoroughly-clean and bright dishware.
Compared to many models (even some of those on the AlphaChooser best dishwashers list), this particular unit seems to satisfy most of its buyers even in the drying department. We usually see great dishwashers come with the caveat of not being able to dry dishes properly -- but not this one, probably due to its ExtraShine cycle option, which increases the temperature and extends the drying time. With that said, one reviewer pointed out that you can certainly get dry dishes, but the interiors of this quiet semi-integrated dishwasher would sometimes still be left damp.
While the SPE53U55UC's design is a big hit for consumers, some have expressed dislike for the black panel that lies between the stainless steel door and the floor -- saying that it disrupts the uniformity of their silver kitchens. Another thing to note is that the top cup holder can reportedly fit only small cups.
The Bosch SPE53U55UC's promising cleaning and drying performance is enough to earn it commendation, but adding the fact that its low-noise operation is comparable to especially-quiet dishwashers, it seems only fitting that it has been named as Alphachooser's second best 18-inch dishwasher 2019 in this ranking of the top 6 18-inch dishwashers.


Max noise level: 46 dBA
Alpha
Rank:
#3
Our
Score:
4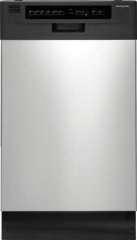 This semi-integrated model from Frigidaire didn't make it as
an Alphachooser good choice
of our top 6 18-inch dishwashers for nothing. It has secured a great number of reviews praising it for its physique, with its stainless steel finish (for the FFBD1821MS variant, at least) giving its exterior a sleek and modern look. Furthermore, praises for its cleaning ability come aplenty, even with its light cycle -- but note that most of the reviewers who've written this remark have also mentioned that they routinely pre-rinse extra-dirty dishes in the first place.
Opinions about the Frigidaire FFBD1821MS' noise level isn't as definitive, however. Some consumers have noted that it is ((Q))very quiet,((Q)) while some expressed wishes for it to be less noisy. As such, perhaps the most solid benchmark we can rely on at this point is really its 55dB noise rating, which is relatively-noisy, but its not unexpected for a semi-integrated compact dishwasher.
Common complaints found among its 1214 reviews involve the ((Q))wonky((Q)) silverware basket and this semi-integrated dishwasher's height (or lack thereof), which is not the tallest but is definitely taller than the category average. So if you're iffy about having a dishwasher that may potentially leave some space between it and the countertop, then we suggest that you take diligence in comparing measurements before taking the plunge.
In the end, the Frigidaire FFBD1821MS was able to traverse past its imperfections, winning an impressive number of fans in the process

Alpha
Rank:
#4
Our
Score:
4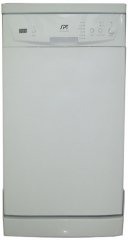 Based on many of its 277 reviews, the SPT SD-9241W 18-inch portable dishwasher doesn't seem to cause any headaches when it comes to cleaning performance. Of course, it doesn't have to deal with as many dishes as your standard built-in model -- being the 18-inch portable version that it is -- but a unit that does its number-one job in a manner that's more than satisfactory for its customers should never go unappreciated. This, along with a lot of reviews commending it for operating quietly, has earned the SD-9241W 4 stars. Interestingly, its 55dB noise rating is actually above the average across all dishwashers, but smaller dishwashers tend to be more noisy and, in this case, the numerous feedback backing its relative quietness can't be discounted.
This fellow is not without potential issues, despite earning a spot in our top 6 list as an Alphachooser good choice. Many reviewers gloat about how long its standard wash cycle is (cycle duration is a common point of dissatisfaction across all types of dishwashers), and the fact that it doesn't completely dry dishes didn't go unnoticed among customers. Apparently, this last issue can be remedied by cracking the door open after the cycle to help air-dry the dishes. Also, reports of this 18-inch portable dishwasher arriving damaged, dented, or with a dislodged element seem to fester in its critical reviews. One customer even remarked that the biggest challenge with this item is to have it ((Q))arrive undamaged.((Q)) Well, it's a good thing warranties exist for cases like this, and its ratio of 1-star ratings being around 16% when we looked at it is still in the healthy range, especially for dishwashers
In the end, this Sunpentown unit still left most of its customers satisfied. So if good reviews are of utmost importance to you, this dishwasher's mostly-good feedback should probably be enough to seal the deal.


Max noise level: 55dB
Alpha
Rank:
#5
Our
Score:
4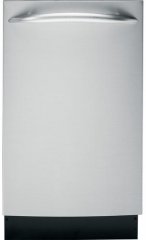 The DDW1809W-1 is an entry-level plastic-finish dishwasher with an 18-inch width, a stainless steel interior, and 8-capacity place settings.


Max noise level: 60
Alpha
Rank:
#6
Our
Score:
4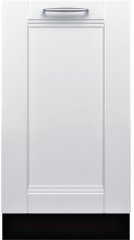 The DDW1809W-1 is an entry-level plastic-finish dishwasher with an 18-inch width, a stainless steel interior, and 8-capacity place settings.


Max noise level: 44 dBA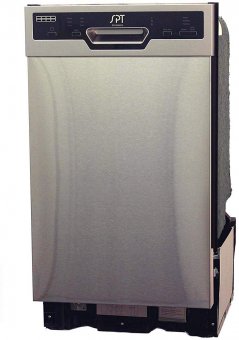 The DDW1809W-1 is an entry-level plastic-finish dishwasher with an 18-inch width, a stainless steel interior, and 8-capacity place settings.


Max noise level: 52 dB

8 place settings
More 18-inch dishwashers, sorted by the latest model first: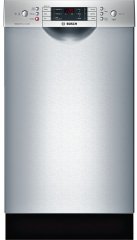 In spite of being a narrow dishwasher, the Bosch SPE68U55UC managed to a have a sound rating of only 44dBA. This is a rare feat for built-in models its size, and so it's not entirely a shock that its buyers have expressed surprise about how quiet its operation is. The silver exterior has been praised for its stylish looks, as well.
Mainly due to the third rack (which appears to be mainly used for utensils and flatware), customers seem to be more than satisfied with this 18-inch dishwasher's capacity -- with a number of buyers saying that it felt like this model can hold almost as much as a 24-incher . This ability to utilize space effectively definitely makes the SPE68U55UC feel like a catch for space-strapped-kitchen owners. According to many of its reviews, this (rating temporarily unavailable)-star compact dishwasher also has great cleaning ability -- washing baked-on pans and dried-on bowls with apparent ease.
We didn't really find any major complaints from its customers, except for some expressing preference for metal feet over the plastic ones found in this model.
With the number of people who have reported satisfaction with this small dishwasher, the Bosch SPE68U55UC secures a good reputation. However, it may still have to prove itself further such that it may be considered a part of the top 6 18-inch dishwashers.


This page offers an ad-free experience, in exchange for "Check Price" and review links to lead to the stores you know, which pay us a commission that has no effect on your price. Items are chosen independently (regardless of price) by our computer review crawler and commented by human analysts. Read more about our
constantly-updating unique ranking system
You Should Also Check Out: