Compare the Latest 3 Elegiant Bluetooth Headsets 2022
Here are the latest Elegiant Bluetooth headsets in increasing order (To compare any of the 3 models, just click their Add to compare button):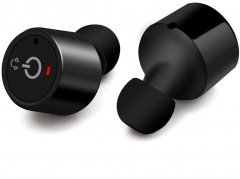 This really small low-priced pair of earbuds has been labelled by the manufacturer as a sport Bluetooth headset, perhaps only due to its snug fit. It comes with specs like a CVC 6.0 noise cancellation system, multipoint (for up to two devices), and a 5-hour playback time.
You Should Also Check Out...