Compare the Latest 3 Life N Soul Bluetooth Headsets 2022
Here are the latest Life N Soul Bluetooth headsets in increasing order (To compare any of the 3 models, just click their Add to compare button):



Designed for comfort and sporty activities, this stereo headset is built with a small frame, sweatproof coating, 4.5 hours of music streaming, and an hour's charge time.


A headset that also serves as an adapter to make corded models go Bluetooth and up to 4.5 hours of music streaming through Life N Soul's bass and clarity filters.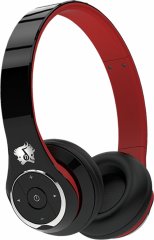 Coming in a variety of colors, including pink, green and purple, and with an on-screen battery indicator (iOS), this over-the-ear headset offers 10 hours of music streaming and an 11-hour talk time.
You Should Also Check Out...